The future is bright, the future is pink and black!
The clubs rising young stars were in action this weekend. A minibus load of young people headed for the two day Ras Na N'Og  – or Youth Race in Drogheda. Consisting of a criterium and two road races, this was a lot to pack into the two days.
In the U12 races Rachel White, who last year broke her shoulder and elbow, was back in action.  Although tentative to begin with, she soon found her stride and rode commendably to finish strongly in the bunch. The U14s saw two riders new to racing.  In her first Ras, Amelia Tyler was busy mixing it in the boys race, and rode superbly to take first girl in the Crit, and with her other strong finishes, took top U14 girl. Matthew Keown, showed talent runs in the family by riding aggressively and improved with each race.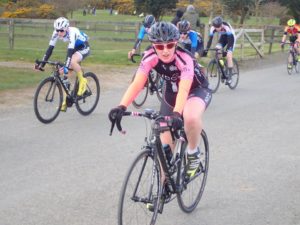 Experienced riders, Nathan Keown and Katie Armstrong, both of whom have represented Cycling Ulster in the past rode strong races in the U16 category.  Katie made the gutsy decision to ride with the U16 boys, her focus being on next year's junior level, a big leap in distance and speed.  Katie showed many of the boys a clean pair of heels and was second girl overall.  Nathan, in his second Ras, rode strongly at the front of his group, and attempted a few daring breaks, especially in the third race when he made for t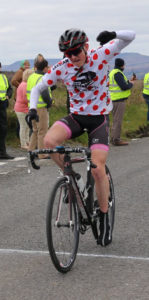 he line with 600m to go, only to be caught just shy of the finish.
The senior riders were out in force too.  The best result going to Andrew Chivers at the Lakeland Cycles 2 day road race.  Chivers rode exceptionally well on day one, taking the polka dot leaders jersey for King of the Hills.  This left him in a strong position for day two and wanting to defend the KOH title, Chivers rode fast and hard, eventually distancing himself from the opposition to take the stage win, the KOH title and the overall general classification.  The season is looking good for this young man, who was recently selected by the Belgian Project to ride the tough Donegal Three Day event.
Bow Bells TT Series
The 'murder mile' proved more punishing than many expected.
The weather held and it was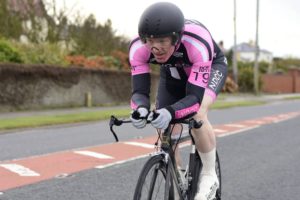 encouraging to see so many out giving it a go.
Results
Paul Sweneraton      2mins 06.5secs avg
Michael McMullan    2mins 08secs avg
Matty Blayney         2mins 14secs avg
Ride Etiquette
Members are reminded to show discretion and manners when the 'call of nature' occurs out on the club rides. Potentially, the offence of indecent behaviour can be committed, so if you're caught short, find somewhere out of view!
Report courtesy of Michael McMullan – NDCC PRO