The Ras consisted of three main events, day 1 was a crit round a 1.8Km circuit followed by a road race on a hilly 6.6 km circuit later in the day. On day 2 there was a final road race on a flatter longer course 7.5km all based around Bellewstown Race Couse Drogheda.
Each age categories did an increasing number of laps.
There were three age categories U12 U14 and U16, we had riders in all three categories
In the U12 we had Rachel white who was returning after breaking her shoulder and elbow last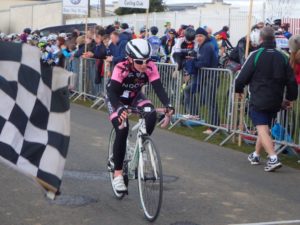 year at the event, sh had a nervous start however soon settled in performing well finishing with the main group in each race.
In The U14 we had Matthew Keown who was entering his first Ras after only starting racing late last year, he rode well in some challenging conditions and progressed with every race.
We also had Amelia Tyler who was also competing in her first Ras and cycle specific race recently moving from triathlon, Amelia was the first girl in the crit and the first road race narrowly missing out on another win in the third race however was beaten when two other girls got the jump on her in the sprint finish ending in third place. Her earlier efforts were enough for her to secure top girl overall.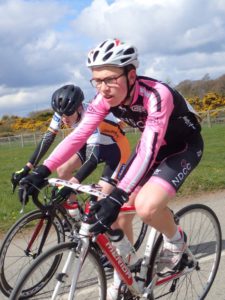 In U16s we had Nathan Keown who is in his junior year entering his second Ras, Nathan rode strongly in all three races finishing in the main bunch in each. In the third race Nathan made a break with 600m to go and led the field for 300m unfortunately though he could not hold on and ended up being caught with 300m to go but showed real spirit and guts to give it a go just going a bit too early but he'll know for next time.
We also had Katie Armstrong in the U16 race who could have opted to ride with the U14 boys however given this is her senior year and is sitting her GCSEs Katie has decided to focus on making the jump to junior racing next year so opted to compete with the U16 boys to stretch and test herself only one of two girls to do so. Katie performed well beating a number of boys and was second girl over the three race stages. Both girls were recognised and praised by the organisers for doing this even though neither finished with the main group but came in a short time after.
Report and Images courtesy of Scott Armstrong – Youth Development Officer