WATSON WINS AT WALLACE
Milan – San Remo was not the only Monument race to be fought over this weekend, as the Wallace Caldwell Memorial was held on Saturday. For those not familiar with the term, there are many classics in the cycling world but only a handful are notorious enough to be described as Monuments. For local racers, 'the Wallace' is exactly that.
From the start this was going to be a battle of attrition, with a break that included strong man James Ambrose, going out after thirty kilometres and maintained a lead of over two minutes until the peloton got organised and brought them back. With the two very challenging climbs of Cam Forest and Springwell ascended, Dave Watson and two others broke free but again were brought back by the marauding bunch. Watson, who has had an amazing start to the racing season and has proved his worth to the club time and time again, went toe to toe at the end and won on the same stretch of road that he sealed his 2015 Tour of the North crown, by the slimmest of margins. It took a photo finish to confirm the win, less than a tyres width.
The ex-Junior Commonwealth Games rider, who scalped none other than a certain Chris Froome during the Games, is the hot favourite for this weekends Tour of the North.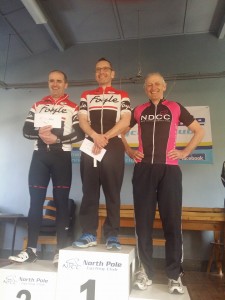 And it was not just the young guns that stood on the podium this week. Ever youthful Tom Henry, who can still dish out pain to riders half his age, took a fantastic third spot in the Masters Race, hosted by North Pole CC in Donegal on St Patrick's Day. He was in the mix again on Sunday at the Carn Wheelers Classic, Maghera. Although he missed out on a podium finish this time by finishing 6th.
Off Road – XC Ormeau Park
North Down was well represented at Sunday afternoon's mountain bike race at Ormeau Park.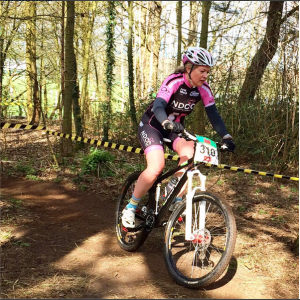 Four members, all riding their first XC race, entered the B race, in what was a twisty but dry course. Their aim was to stay upright and finish, with Michael McMullan finishing in 6th place. Alison McMullan was the sole club female rider finishing strongly on a track that proved challenging for her.
If you have difficulty entering the road races, the off road races offer a great alternative and you will feel just as exhausted after an hour flat out in these events. For more information, refer to the Ulster XC website or Facebook page.
The Tour of the North
Just a reminder to all club members that from 25th-28th March, the four day stage race will be held right on our doorstep. North Down will be represented by current champion Dave Watson and his strong team, so please make the effort to come out and show them support. If you are free, the organizers still require marshals, so please contact them directly (see link on Facebook). It may not be a bad idea to tell your non-cycling friends to avoid the Peninsula over the weekend unless they want to come and see a great sporting event. Check the press for timings.
Club Quiz Night
The annual Club Pub Quiz will be held at Pickie Bowling Club on Friday 15th April. Tickets are £5 per person and food is provided by club sponsor, Bow Bells. Those wanting tickets should contact the Social Secretary direct
Report courtesy of Michal McMullan – NDCC PRO.