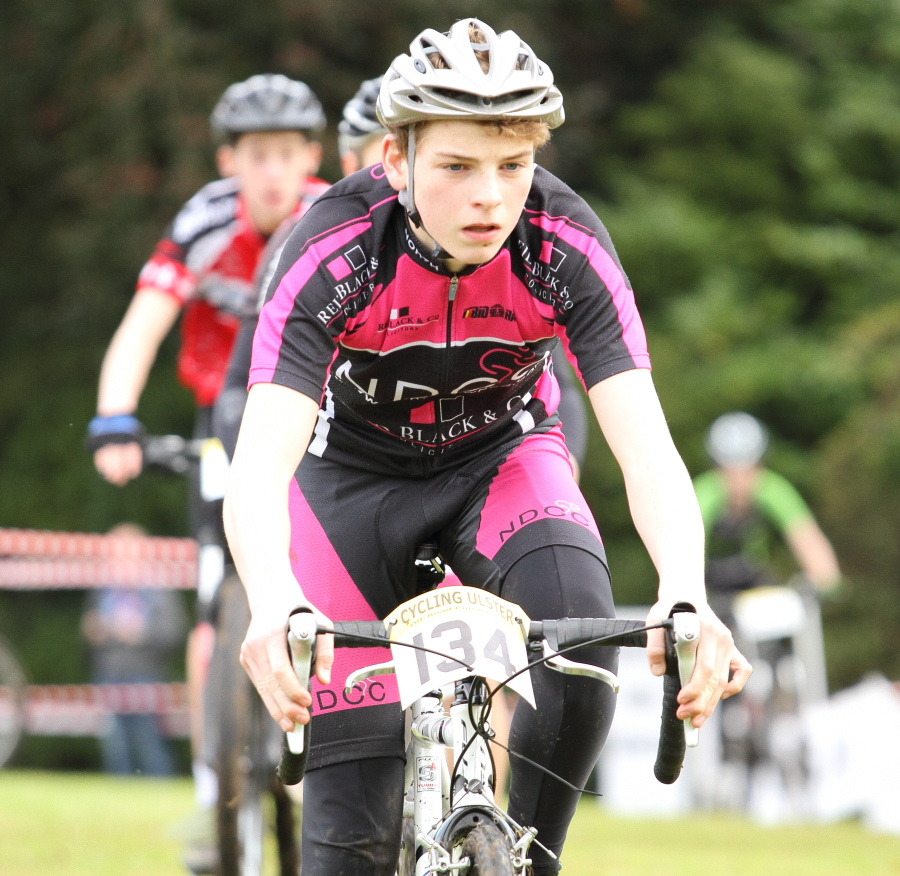 Week 1:  Lurgan Park,
When I was riding in Lurgan park I was very nervous because it was my first Cyclocross race of the season and also the first time I had ever attempted Cyclocross, but when the whistle blew on the start line I started to realised I was racing further and further ahead of the others, I looked behind and everyone was well behind me. Until the second lap I was thinking to myself "I'm winning!" First race of the season and I was about to win.  Seconds later my bike started to make unusual clicking noises so I looked down and then the hanger on the back derailleur snapped clean off.  There was nothing I could do to fix it. So on my first race ever, I found myself walking with my bike down to the start to tell everyone.  I felt so sad and depressed.
Week 2: Lady Dixon Park,
I was very lucky to get my bike fixed in time for this race. As I did my warm up laps I thought the laps were longer than last time.  At sign on, I saw my friend Cameron Macintyre and he was with someone else called Adam Duff.  Adam was also in my under 14 race. I'd never seen Adam race before so I didn't know if he was good or not so we all went on a warm up lap and we all just talked and cycled. So on the starting line we all got to know each other, we only had to do 4 laps and as the whistle blew it was me and Adam first into the whole shot.  Off we went and it was pretty much a race between him and me for first and second. During the race we just kept overtaking each other over and over again until the last lap when he was out in front.  I was trying not to let him get too far away or fall so I could catch  him on the flat straight finish.  On the spiral on the last lap, with Adam Duff out front, we went round and round until someone in front of him fell and caught his wheel.  This brought Adam down.  At this point, I managed to get past and started to cycle fast because Adam was straight up and on again.  But for the rest of the race I was out in front and it was a bit of sprint finish because if I didn't sprint he would have over taken me. When I won this race, I promoted my mum to my manager.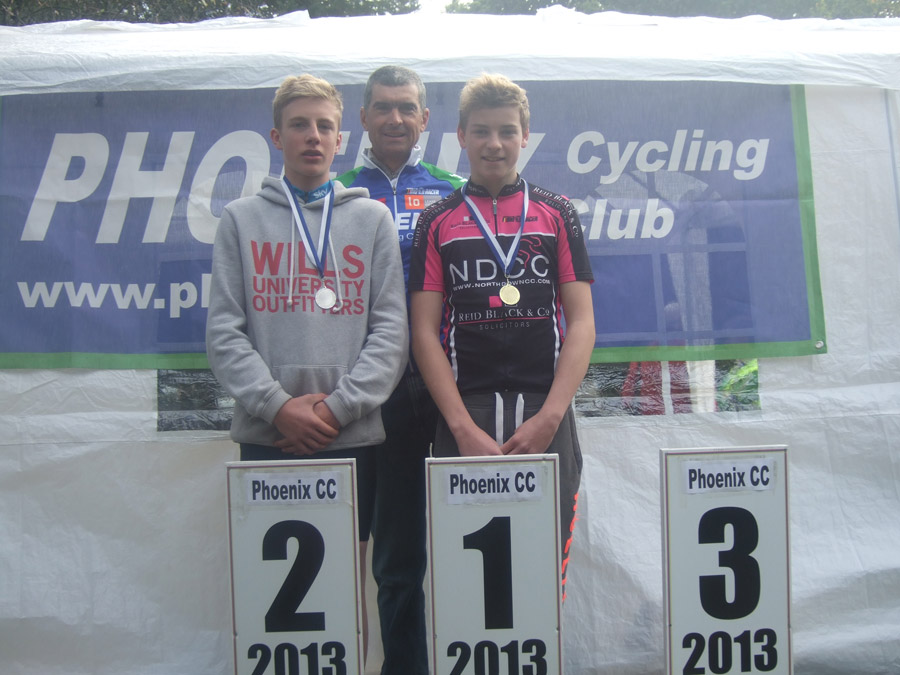 Week 3: Dungannon
When we arrived in Dungannon, I looked up, "oh no, grey clouds", rain was on the way. It was very long walk up to sign on and walking back I looked up the track and the muck was ankle deep.  I had never ridden in heavy thick muck before because in week 1 and week 2 it was dry and just grass. I got dressed and went on a warm up lap with Cameron and Adam Duff, and it was tough there was lots of roots and deep muck especially through the wind mill, it was hell. So again on the starting line…the whistle blew I didn't look down to put my cleat in and there was no fiddling either, it was perfect my cleat just went in straight.  And again Adam and I were out in front. It was a grassy start,  on to the concrete then into the forest. In the forest it was like going round a roundabout, it was just corners and corners, you couldn't pick up speed because just around the corner was…another corner. Adam Duff started to edge ahead because he had a mountain bike so he had more traction in the muck, coming down the hill about to bear slightly left I went over a root. And I'm sure you know if you are going over a root you need to come at it perpendicular, but me not knowing it was there, went over it sideways and obviously my bike just slipped out from underneath me and I hit the ground like a sack of spuds.  Thankfully that was the only fall I had that day and the rest of the remaining laps went according to plan. It was a solid 2nd finish.
Week 4: Bangor,
It had been raining throughout the week so I kind of predicted that it was going to be a very mucky course.  When I signed on I had seen that Adam Duff had signed on already, my opponent.  That week Cameron Adam and I went round together just talking not really paying much attention to the course and once we finished the pre-lap we didn't do anymore laps, we were just focused on keeping warm!  The wind was a bit fierce in the open air.  On the starting line again like always I've got butterflies in my stomach. And as I heard  that whistle blow again, my brain automatically realised that it was go time and we were all pedal to the metal on the concrete, then up the big hill, along a mucky grassy football field, then into the forest. Again there were roots everywhere, in all angles and I was just lucky to get out of that minefield of roots without falling off.   It was just leaves from then on in until a long stretch of big drops of muck but once past that there was a mound up then down and within 3 seconds a very tight u-turn, then back into the forest. On the u-turn I saw my dad in his big hi-vis jacket, chuffed to bits that he is marshalling by the way. Up until now I was placed 3rd until the boy in front of me, Thomas, got a mechanical and pulled out. I finished a good 2nd that day as well.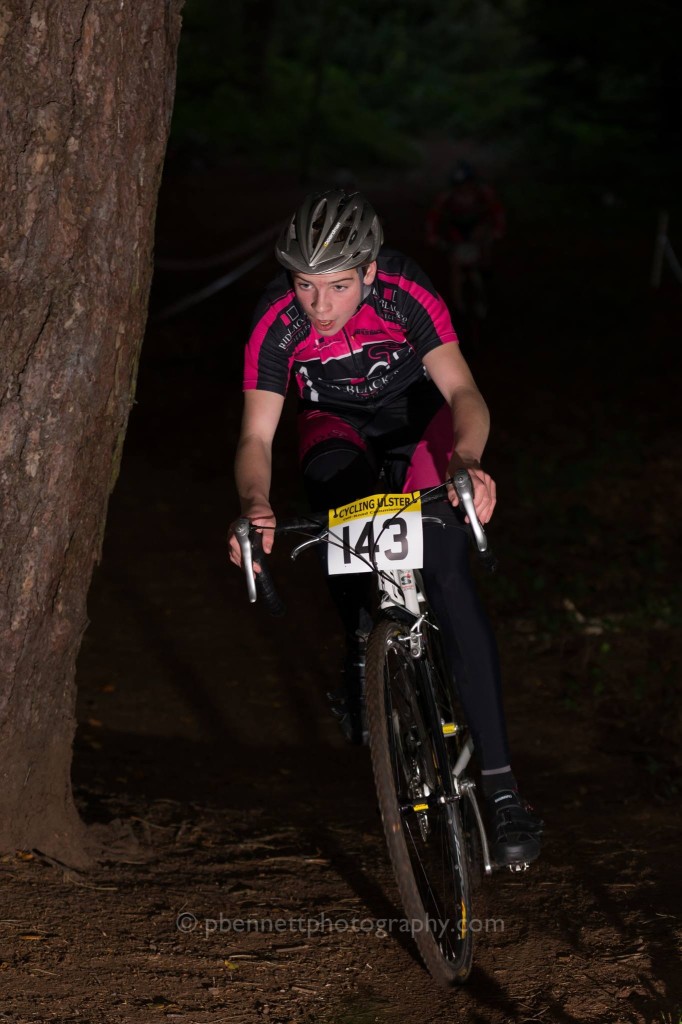 Week 5: Moira
When we turned up and signed on, me and mum walked to the coffee shop just round the corner and got an Americano each.   I was just sitting in the warm with a warm coffee dreading going back to the cold muck!  This time Ben Webb and I went on a pre-lap this time and it was so mucky. There was a bear left then a big mucky hill up, I just knew I would have to carry my bike up there! So on the starting line just chatting away, then I jumped when the whistle blew for the under 16's making me realise I was next… When the whistle blew for us it was a long concrete hill up to the start of the track, so again me and Adam were out front by miles! I was trying to stay behind him just in case he made a break for it  and sprinted off.  This time I was just ahead of him on the 2nd lap but I carried my bike up that big mucky hill on the last lap and that was the worst mistake I made as I couldn't get my feet clicked back in and Adam was cycling off ahead. As soon as I got clicked in it was all hands on deck. I did not stop pedalling until I crossed the finished line, that day was also a 2nd finish.
I joined NDCC to ride on the roads and really enjoy the club runs, when I'm not selected to play rugby for school on Saturdays but I am smitten by Cyclocross.  I just need to persuade my parents that I now need a mountain bike to add to my collection!
Adam Preece