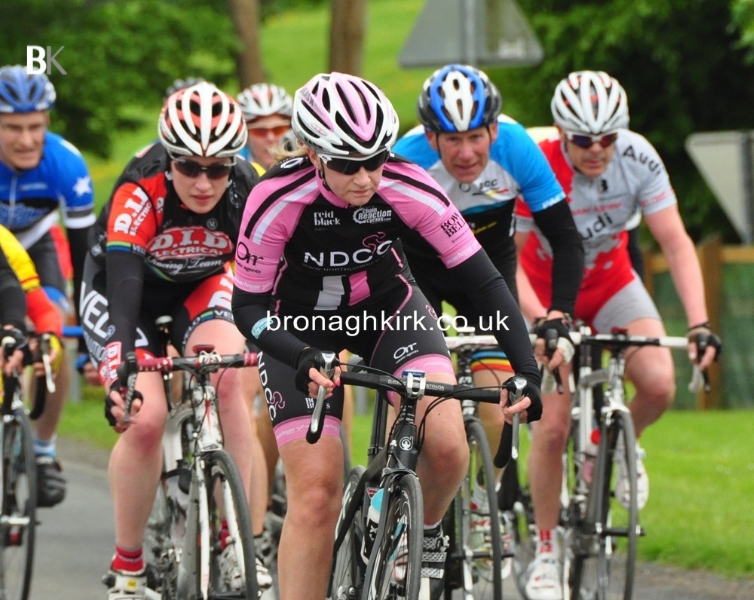 Saturday saw round 8 of the Bling Bike Kit Ulster Women`s league, with the West Down Grand Prix at Katesbridge in County Down.
Again the Women were pitted alongside the men's Masters event which made for a lively race with over 35 competitors.
Sometimes racing alongside the men does not give a true reflection of Women's events, but the girls made their presence felt throughout the three laps of the 8-mile rolling circuit.
Southern visitor Ann Dalton (DID Electrical) was active throughout the event along with series regulars Rachel Mitchell (North Down CC) and Julie Rea (Phoenix CC) who countered and challenged the men throughout the event.
Riders, male and female, were dropped throughout the race, leaving a bunch including 5 women sprinting for the win.
First across the line was Dalton, who does not count for the Ulster League, however she was closely followed by Rea and Mitchell, with the Phoenix rider getting the verdict by half a wheel.
Alwynne Shannon (Newry Whs) was third closely followed by Sharon McKenna and league newcomer Jane Millar (Bann Wheelers) in 5th.
The result sees 6th placed rider Lorraine Jeffers (East Tyrone) move clear at the top of the League Table, closely followed by Donegal woman Sandra Devine. This pair are the only two riders to so far have recorded 8 scores in the series, and with three rounds remaining we may well see some changes in the overall standings, as a riders best 8 scores from 11 rounds will count.
Round 9 will be the North Down Grand Prix in Donaghadee in a fortnights time.
Result. West Down GP. Saturday 24th May 2014.
            1          Julie Rea.                             Phoenix CC
            2          Rachel Mitchell                    NDCC
            3          Alwynnne Shannon.             Newry Whs.
            4          Sharon Mckenna                 Emyvale.
            5          Jane Millar                            Bann Whs.
            6          Lorraine Jeffers                   East Tyrone
            7          Freida Brown                       Banbridge CC
            8          Lorraine Mullarkey.              Emyvale.
            9.         Sandra Devine.                    4-masters.