Your lungs are bursting, your legs are on fire but you've never felt better because you've just crossed the finish line and taken a couple of seconds off your Personal Best.
Welcome to the world of the Time Trial, otherwise known as the   Race of Truth where it's just you against the clock over a specified distance. So we might wear strange looking helmets  and talk about wind but we're a sane lot really. No really we are!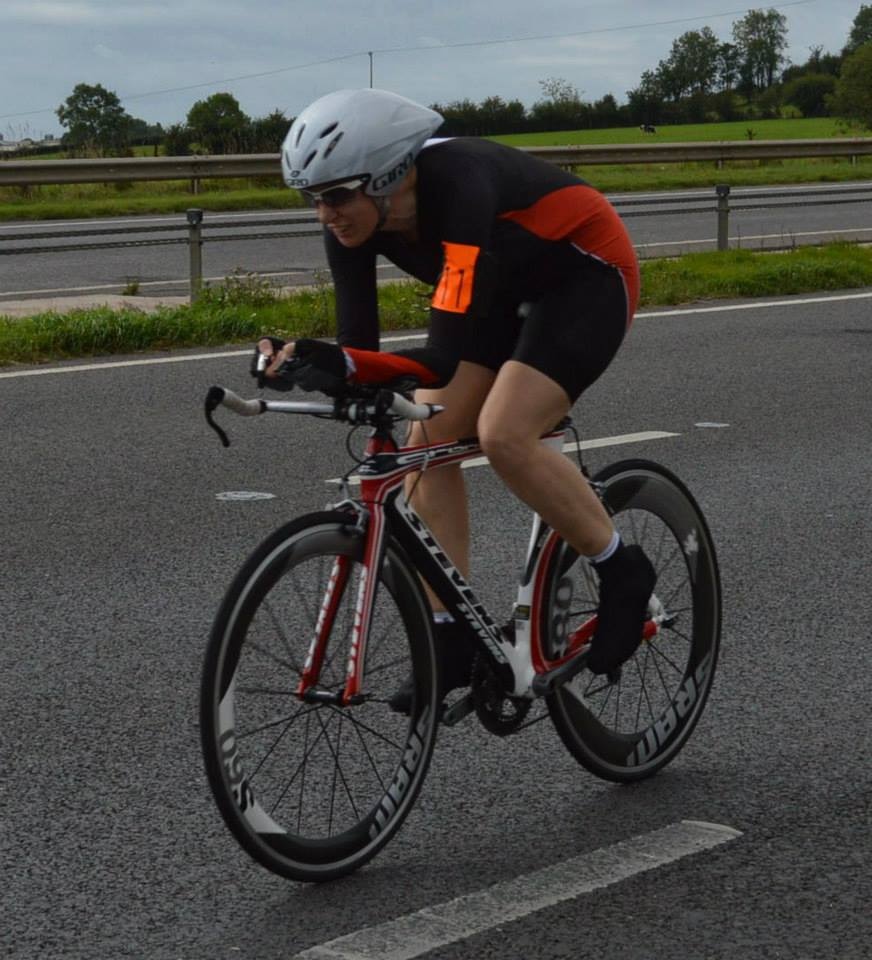 If you've never tried a time trial the club hold regular 5 mile, 10 mile and  25 mile TTs throughout the summer season with a club licence required to enter.  Riders are set off at one minute intervals so you don't have to contend with bunches of riders associated with a road race. Just ride as fast as you can for half the distance, turn and repeat. Just don't forget the smile at the finish line ☺.  Complete one at each distance and you may even qualify for a club medal. Sure what could be easier?
If you catch the bug there are also open competition TTs on various courses across the country such as Toome, Dungannon and everyone's favourite fast course, Woodgreen near Ballymena.  It is at such events that you will find a friendly but varied group of old and young , the fast and not so fast, loitering at the side of the road. Like all cyclists the conversation usually revolves around the wind speed and you will often see this merry band peering at the sky scratching their chins and wondering if that passing shower is going to turn into a downpour.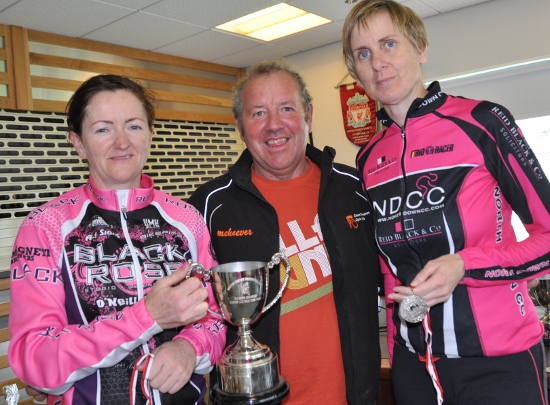 It was on Woodgreen this year that North Down entered  two ladies teams into the Team Time Trial with a successful bronze medal for the A team of Louise Togneri, Alison McMullan, Ange Perrot and Janine McNally in a time of 1.06.12 for the 25 miles.
There have also been several other successes for the ladies in the club this year with Louise Togneri taking silver in the Ulster 10 championships and Janine McNally silver in the 25 champs. I achieved bronze in both the Ulster 10 and NI 25 championships and silver in the Ulster 25 Vets category. On a more personal note I was delighted to see my PBs improve.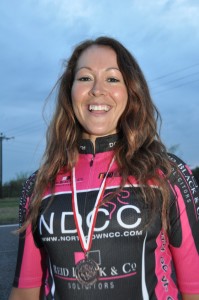 It's not all about the North Down women of course.  John Hunter put in a fantastic performance to win gold in his age category at the WPFG and there have been club golds for John Rafferty, Matty Blayney,  Paul Swenarton, Michael McMullan, Alan Patterson and under 14 Harry Dow.  Colin Massey and Stephen Cousins are also becoming regulars at the open events and have recorded some very fast times. Well done to all.
While many of the TT regulars will be seen on the latest carbon model it is not an essential to remortgage the house to take  part.  I have been participating in TTs for around 10 years now and only this year invested in my first TT specific bike – and had the nerve to wear a skinsuit. Like most others I began just riding on my road bike before adding aerobars . You can also get some marginal gains (another term you'll hear alot of) by wearing a pair of overshoes or one of those  pointy helmets, all designed to combat wind resistance at the fraction of the cost of a disc wheel.
So what's stopping you from giving it a go.  Everyone will be made very welcome and with women particularly underrepresented it would be fantastic to see the numbers increase. No one will care if you do 10 miles in 20 minutes or 35 minutes, it's all about the fun and camaraderie and I guarantee you'll be back to try and improve your time.  Remember pain is temporary and you will eventually encounter that rare summer evening when  the sun shines, the wind is light and the PB will tumble. Ready, 5,4,3,2,1 go!
Gillian Orr