Mallorca
After such a wet and miserable winter, the prospect of a week in the sun is a welcome relief for anyone and if you are a cyclist, there is only one place to go – Mallorca.  Whether you call it Mallorca, Majorca or Majorkie, this gem of the Med is a cyclists paradise and just the place you want to go to show off your guns.  If you watched the recent drama, The Night Manager you will have been given an appetizer of the scenery and if this is your first time out then you are in for a treat.
NDCC normally bases itself in Puerto Pollensa in the north of the island, and is a great starting point for the daily rides.  You may have heard of notorious climbs like the Puig Major and Sa Calobra – the very thought striking fear into you, or towns like Deia, Soller and Valledemosa, offering views of some of the world's most stunning coastlines.  Cap de Formentor is a fabulous route, less strenuous than the other two but enough to make your legs hurt.   The reward being a coffee or a cool beer at the lighthouse, offering spectacular views out to sea.  Don't despair if climbing isn't your thing, as there are plenty of flatter routes that will take you from one beautiful village to the other.  Petra, Puerto Cristo and Can Picafort are just a few to mention but with everywhere being so accessible on the island, the choice is immense.  The island is criss-crossed with thousands of kilometres of small rural roads, known as Camis. These are probably the best way to see the island as they pass by olive, lemon and orange groves, filling the air with their scent and they will open up Mallorca to you in a way that most tourists will never experience.
While you can never guarantee the weather, the temperatures are normally in the late teens/early 20s but it is advisable to bring poor weather clothing, as Mallorca does get its fair share of rain – a light rain jacket/gilet and arm warmers are advisable.  It would be recommended that you get some from of travel insurance to cover accidents, as the odd tumble may occur and with that always carry your European Health Insurance Card.  If you have one check that it is in date, if you don't – get one!  There are a number of good bike shops on the island where you can purchase anything you've forgotten.  Co2 cartridges cannot normally be brought on the planes, bike bags are scanned at Belfast and you will be asked to remove them, but you can purchase them when you arrive.
RACING ROUND UP
The weekend racing round up continued NDCCs successes
both on and off road.  For those new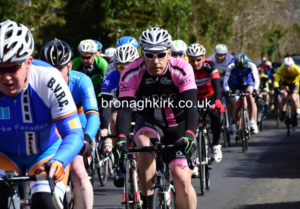 to cycling, races are categorized from the elite A1 to the introductory A4.  To get promoted from a lower category to another, you must earn points by getting results.  Gavin Moore did just that at the Bann Valley Classic, by taking 1st spot in the A4 race.  A couple more points and he will be upgraded to A3.  Dave Hamilton rode a strong race in the A1-A2 category, just missing out on first place to ex-pro Ronan McLaughlin. The other Dave – Watson – finished third in the Stamullen GP.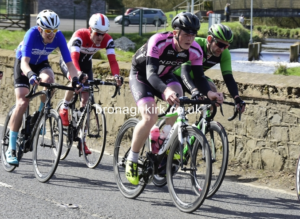 Off road racing at Ormeau Park brought a third place for Michael McMullan in the Senior B race.

YOUTH RACING
This weekend sees the first big event for our youth riders, with the two-day Ras Na N'og being held in Drogheda.  NDCC has a plethora of talent, Rachel White, Katy Armstrong and Nathan Keown to name but a few. We wish them all good luck and we know they will give their all.

PUB QUIZ
A final reminder to those who have not booked a ticket for the quiz at Pickie Bowling Club this Friday. Please enter your team with Kieran Beattie as soon as possible to avoid disappointment.
Report courtesy of Michael McMullan – NDCC PRO