On Saturday 27th February 2016, history was made in North Down Cycling Club with the move from Park Drive to Bangor Sportsplex. To help celebrate this event, the Mayor of Ards and North Down, our sponsors and the County Down Spectator came along and joined a great turn out by young and old members. These new premises will help the ever expanding club grow from strength to strength with the potential to run more training and corporate events, and maybe the odd social night. So please, feel free to make use of the special gym membership rates, the yoga and spin classes and if anyone has an idea of how else to use the facility, let a committee member know.
TIM BURNS UP THE ROAD
Spires CC held their open races on Saturday in Co. Derry, with a packed schedule. North Down were well represented with a full minibus load of racers all eager to get a result. And true to form, they did not disappoint. Timmy Burns,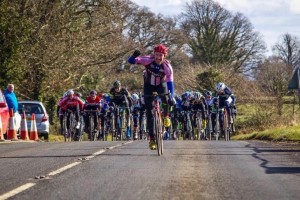 keen to improve on his recent second place was the clubman of the day taking an impressive and dominant win in the A4 race. Timmy joined the club last year, moving away from triathlons, putting in a solid winter's training. This is his first full racing season and though he thought he was a better climber, it turned out he has quite a gallop. He took his chance with 500 metres to go and left the rest of the field in his wake, winning by quite a margin. This win means Timmy will be upgraded to A3, where he will be an important asset to his teammates.
Ever on form rider Davy Hamilton, showed he should never be written off by anyone, taking a superb second place in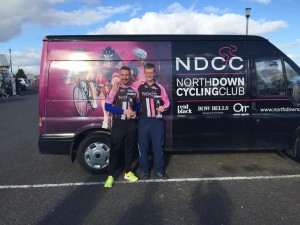 the Senior race behind ex Commonwealth Games rider, Adam Armstrong. In what was seen as a gentleman's agreement, Davy did not contest the sprint in what had been a grueling three-man break, until the last kilometre when the duo went clear.
Hard man of racing Davy Watson continued his preparations to defend his Tour of the North title with a strong seventh place at the Newbridge GP. This race had a strong line up including professionals from Sir Brad's team, Team Wiggins and semi-pro teams Aquablu and ASEA. Considering Dave works full-time and only gets home at weekends, makes his racing so much more impressive.
North Down has definitely gotten off to a flying start this season.
NORTH DOWN COASTAL CHALLENGE 2016
The very popular annual North Down Coastal Challenge is now open for entries. This charity event has raised tens of thousands of pounds over the years and will take place on 19 June 2016 and offering the cyclist an opportunity to ride the Ards Peninsula. Whether you are experienced or a novice, this will be a great challenge on country roads to ride 100km. Refreshments and a 'broom wagon' will be available along the way, so don't worry about running out of steam. See the club website for details.

OTHER CLUB NEWS
A recent First Aid Course specific to cyclists was run for the club and proved to be extremely useful. When out cycling, it is easy to take a bump and not know what to do, so having a dozen trained First Aiders in the club is an asset. Hopefully this course can be repeated.
North Down CC was successful in securing a Council grant to assist in the planning and execution of the NDGP. Always professionally run, this will aid the club in continuing to do so.
Michael McMullan, NDCC Pro