Northern Ireland Festival of Cycling – Bangor Bike Week
The Festival of Cycling commenced on Sunday 5th June with the Gran Fondo, a legacy of the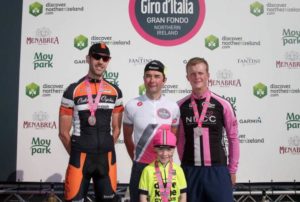 hugely successful Giro d'Italia that visited the province in 2014.  Attracting thousands of riders, the closed road event was for some a leisurely opportunity to stretch the legs, for others a race, which our own NDCC member David Hamilton finished second behind local legend Mark Kane.  There are plenty of events on offer during the festival, appealing to all levels of fitness and ages. Bangor Bike Week will start on Saturday 11th June and is being run by Ards & North Down Borough Council.  Whether you want to race around the town centre in Ards or pedal along the Greenway, this will be a fantastic opportunity to get out and ride your bike. Check local press or the Council website for more details.
---
Bangor Coastal Challenge
The week will culminate in the annual Coastal Challenge, sponsored by Chain Reaction Cycles,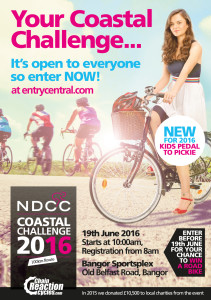 on Sunday 19th June.  This is one of the biggest sportives in the Province, with an expected 1000 riders taking to the roads of the Ards Peninsula.  Whilst called the Challenge, it really is within the reach of just about anyone.  The roads are mostly flat and there is enough assistance on the day to help you around.  With proceeds going to six nominated charities, it really is a worthwhile cause.  There are still places left but online registration closes on Saturday 11th June, so don't delay – enter today!  If you do not have access to the online system, you can enter on the day at Bangor Sportsplex.  Sign on commences at 8am.
---
Club Membership Offer
In conjunction with the Coastal, NDCC have declared June as Membership Offer Month.  Every tenth person to join up will receive free membership for the year, and it is hoped to have a small display at Bangor Marina with a few club members available to discuss what the club does and what it has to offer.  So come along and pay us a visit on Friday 17th June from 7.30pm.  We will be running a static bike competition, aside from the Membership offer, so you never know, you might just walk away as a winner.
---
Racing Round Up
Bow Bells TT Series
With almost perfect conditions, the 10mile TT from Millisle to Ballywalter and back, saw a large turn out of riders.  Especially welcome were the numerous members from other clubs that came along to have a test on the course.  Mark Kane was fastest on the night, with a tarmac melting 21mins 57secs.
Results (NDCC only):
Senior Men
John Rafferty – 22mins 28 secs
Keith Phillips – 22mins 56 secs
Johnny Webb – 23mins 15 secs
Senior Ladies
Gillian Orr – 26 mins 11 secs
Louise Togneri – 27 mins 15 secs
Alison McMullan – 27 mins 28 secs
U16
Jake Rushby 26 mins 50 secs
U12
Daniel Cardy 35 mins 30 secs.
---
Bishopscourt Circuit Racing
On Saturday, Dromara CC hosted a day of racing on the Bishopscourt race circuit.  NDCC were well represented and took home a few honours.  In the A3 race, Timmy Burns took 3rd in the sprint for the line.  This should be him upgraded to A2.
In the Youth categories, rising star Maia Simmons, showed several boys a clean pair of heels finishing 4th in the U14s, a superb result considering she could have ridden in the U12 race.  Top step in the U12s race went to NDCC rider Rachel White, and that too was racing against boys of her own age.
U16 riders Patrick Watson and Nathan Keown worked well together, finishing 5th and 6th respectfully.
---
Track Racing
More used to seeing Sir Chris Hoy tearing up the tracks in velodromes around the world, it may surprise some that Ireland only has a couple of outdoor tracks.  These are far removed from the air-conditioned arenas used at Olympic Games and as such does not receive the recognition or coverage of other aspects of the sport.  NDCC are lucky to have a talent for this style of racing in Paul Swenarton.  On Saturday, Paul raced on the Sundrive Track near Dublin at the Duane Delaney Meet.  Representing the Masters Class, Paul was the fastest in his category over a 200m sprint, with a blistering 13.13 secs!  Paul also finished 8th overall in the competition, which saw him pitted against riders half his age.  There is life in the old dog yet.
Words & Report by Michael McMullan – NDCC PRO