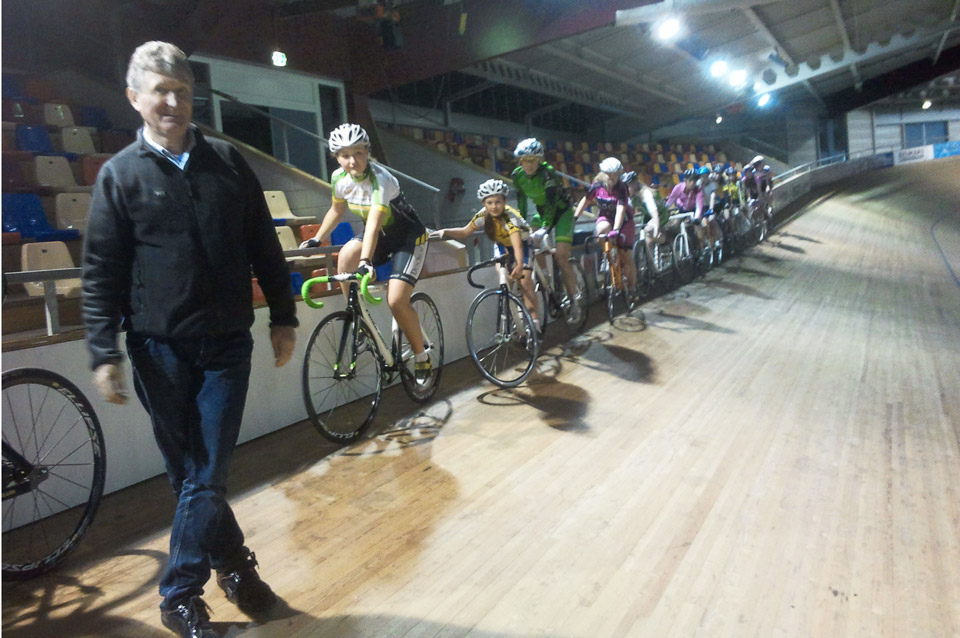 Two of our girls, Molly McLarnon and Katie Armstrong, are on the Irish 2020 talent team. During the last weekend the girls, along with the rest of the team, made a trip across to Holland to take part in some track cycling. The girls really appreciate the support they receive from NDCC and have put together a diary of their time.
Molly McLarnon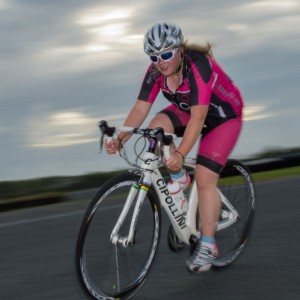 Did I ever think I was going to be cycling behind a derny? Well this was one of the many highlights of my weekend.
My adventure started off on Friday afternoon at the first velodrome with my initial impressions of the track, how steep it was and was I going to stay upright?! Our Dutch coach told some of us to go straight on the track without any instructions and for us to work out what speed you had to go at to stay upright…… He was one crazy coach! The rest of the day was taken up by more coaching.
The next day we were straight at it again, but first we did half an hour of abs and core work, then on to the track for two and a half hours of hard training with a 45 minute break for lunch. A new coach took over in the afternoon and he brought a derny with him. Back on the track we did 30 laps followed by a race. It was great fun, high speed and what a thrill. The day finished up with five of us doing a flying 200m TT which was very tough but enjoyable at the same time.
On Sunday we went to watch the older girls compete in three races against the local Dutch riders in the Amsterdam velodrome. The atmosphere was amazing with the crowd shouting for their team to win.
This trip was an incredible experience and I've learnt so much from the past few days on the track.
Thanks to everyone in North Down CC. More stories this Saturday at Hoops. 🙂
Molly
Katie Armstrong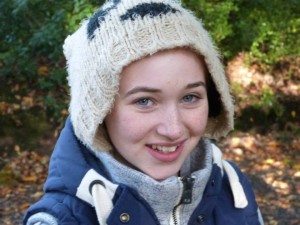 Our plane left from Dublin airport at 11am on Friday 15th November (after my mum cried). The flight took about an hour and half. When we got to the airport we all bought lunch and hopped onto our coach and we were on our way to our hotel.  We dumped our bags down and went to the track which was about 10 mins away from our hotel. We got changed and fitted for our bike.  Our cycling coach had us going round the track gradually moving up so we eventually were cycling at the top and the steepest part of the velodrome. On the first day we basically were getting used to the track and going around it on the different lines. After 2hrs it was no more coach for us we had to get the public bus back to our hotel for dinner and bed.
On Saturday we were at the track for 9:10. We got changed and then we did work on our core for the first hour of the session while local riders (the boys with the 6 packs) went around the track. Our trainer had us using the exercise ball, loosening our backs and doing basic core exercises. Then we did the plank which was awful! After this we swapped over and went on the track while the local riders did their core.  This time we did different types of races like racing against a partner, one lap sprint and our coach made us go around the track the wrong way so instead of going anti-clockwise we were going clockwise which was kind of scary and weird at the start but fine once you got used to it. Of course me being me I fell off just before we stopped for lunch.  I have no idea how I did it, because I wasn't trying to get off and I wasn't going slowly, and I didn't stop pedalling. Anyway it wasn't that sore instantly but when we were sitting eating lunch the pain really hit and my knee started bleeding again, which it keeps doing! I have a massive bruise on my thigh and a cut and bruise by my knee cap now.
In the afternoon session we got to go behind the electric bike thing for 30 laps, taking it in turns to be at the front. We did a race where we went behind him for 5 laps then raced the last 2. We also weaved in and out of each other which was really scary at first because I thought I was going to knock someone off or cause an accident, but it was ok. Then it was time to go back to the hotel for dinner.
The next day we were up very early to get packed to leave because we were going to a different track in Amsterdam to race on it. Sadly the youth races were all full up so Molly and I didn't get to compete which was annoying since I really wanted to race! 3 of the older girls got to compete though, so for the day we just watched all the races and explored the track. We got to the airport really early but it wasn't too bad because by the time we got checked in etc we killed some time. We had dinner and then went shopping. There wasn't much there though so most of time we just chatted then we got our flight to Dublin and I got a lift home with Molly. I ended up getting home at 12:15am. I was knackered!
Overall my trip to Holland was amazing! I had so much fun and learnt so much on the track! I would love to keep it up;  all we need is a track over here now!  Even though I fell off I still had a great time. Anyway one of the guys at the races fell off too which he shouldn't have done since he is experienced unlike me ☺ It was annoying not getting to race but we couldn't have done anything about that.
Katie