Spires Grand Prix 10 March 2018 – Keith Phillips.
The first road race of the 2018 season finally kicked off after a week's delay due to snow,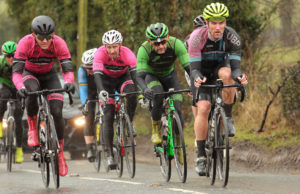 although the conditions were just as bad with high winds, rain and very cold temperatures throughout the whole race, together with mucky roads.
There were four men from North Down racing today. Dave Hamilton, Andrew Chivers and Keith Phillips all experienced A1 riders. Timmy Burns was experiencing his first start in the A1 group.
The race itself was 6 laps of the circuit roughly 50 miles. The circuit itself had a few drags and a couple of leg stingers in it but nothing too testing. The racing kicked off at 11:30 with the A3's and juniors getting a short 2 minute handicap to the A1's and A2's. The race was fast and aggressive from the start with teams attacking and pushing hard to fracture the group and shed the weak.
We caught the A3 group on the 3rd lap and the attacks and intensity increased again. The North Down men weren't fazed by it and even attacked themselves with Keith and Timmy often going to the front, closing gaps and putting the pressure on the group.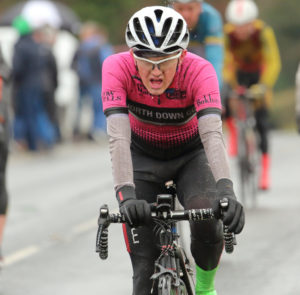 Lap 5 is when the main big fractures happened with a small group of 6 or 7 breaking away and then a further 18 chasing, leaving another 30 or so in the main field. All four North Down riders were in the second group of 18, with Keith and Timmy working hard to try and close the gap. Unfortunately, the gap wasn't to be closed and that small group took the win and top few places.
All North Down men finished very strongly in extremely testing conditions and looking forward moving up and improving as the season continues.
Words by Keith Phillips
Images courtesy of The Belgian Project