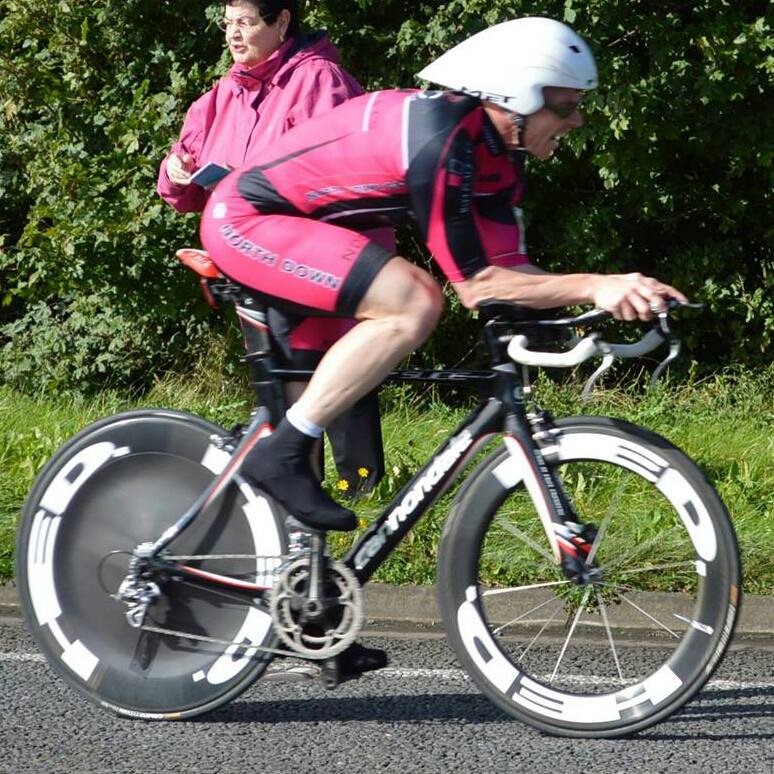 I suppose the idea of broadening my race calendar was stimulated when I received an email to say that the 2014 Cycling Ireland yearbook was printed and available.
I ambled down to the clubrooms and picked up a copy, and then promptly spent the next few hours scouring the pages looking for races which looked reasonably close (ie in NI) and would fit in with work and family commitments.
It was more or less at this point that the self doubt began to creep in. Could I really compete against the big boys? It's one thing turning out for club races against a bunch of folk you know in a fairly comfortable environment….but travelling to a course you've never rode to compete against people you have no real knowledge of, can be pretty daunting.
I decided to talk to some seasoned campaigners like John Hunter and Paul Swenarton to get their views on whether I would be out of my depth. Encouragingly, the guys were very supportive and my spirits (and confidence) lifted.
So that was that. My mind was made up and I got down to formulating a plan for the 2014 season. I trained pretty hard during the winter – though it has to be said there was no real cycling science involved. I came to cycling from other sports and really just focussed on things which I intuitively felt were the right things to do.
Early April and the season was underway – our club 5m TT. Conditions were reasonable for the time of year and a really solid 11min was posted. Things were looking fairly good.
Next up was the first club 10m TT. This time conditions were not so good. Strong headwinds which were to become a feature of the whole season scuppered any ideas of getting a pb. Nevertheless a decent 23min was posted, which again boosted morale in advance of my first planned open race – the first round of the Ernie Magwood Super 6 up at Toome.
It was at this point that Paul Swenarton stepped in to help. Paul suggested that we travel up to the race together and he drove the course with me pointing out the various hazards. This went a long way to easing my nerves. That said – when we got to the car park the first thing we saw was a crowd of guys, all in skinsuits with the best of TT bikes on turbos and rollers warming up. I have to say it all looked very professional. Ahh yes….welcome back nerves. I decided to just keep my head down and focus, not on the other guys, but on what I can do. Before I knew it – I was being held up at the start line and heard, five, four, three, two, one, go….I would love to report that I rode a perfect race – but in truth I overcooked the outward leg terribly. I was averaging over 30mph, which was all well and good, until I made the turn and had to fight a fairly brisk headwind all the way back. A mile from the end, I could see the bridge – but the sod just refused to get any closer. Finally went across the line…23:35. True the race wasn't my finest hour – but I was gutted. On a flat course like that – even with the wind, I was hoping for a pb. Not long after I got home however, the results were posted and it transpired that the route was 320m too long. So out came my calculator and I figured that for the first 10miles I had done a 23 dead….a new pb – which lightened the mood……slightly.
Next up was the Ulster Team Time Trial 25m race up at Woodgreen in early May. Very much at the last moment we got a team together, myself, John Hunter, Paul McArthur and Peter Nugent. Due to some of the guys being in Majorca and other commitments – we didn't have a chance to train as a team, so we really turned up on the day to essentially "wing-it". At the risk of making it sound over dramatic, the weather conditions were biblical. Not long after we started – the clouds came over, it got so dark that the carriageway lights came on and the heavens opened. Torrential is a word that is often misused – but on this occasion it was justified – horrendous. Just to add insult to soggy injury – a horrible side wind picked up, and the temperature plummeted. We were all struggling to keep upright and see where we were going. At about 12 miles we lost John H, and given that we needed to have three riders cross the line to finish – the rest of us persevered. We finished as the second best veteran team. At the end I was hypothermic – shivering uncontrollably. Thankfully John Hunter was waiting at the finish and he got me towels, a woolly hat, gloves and dry clothes. It is not an experience I would like to have again. It took half an hour in the car with the heater blasting for me to recover enough to make the drive home.
I was however starting to feel a lot stronger and the next challenge was the club 25 on that horrible Portaferry rd course. I had finished last year with a 1h 35sec time just missing breaking the hour. I was convinced that if we got good conditions, it was a formality this year. The day arrived and conditions were not perfect – but not too bad. It was quite a big turn out. I was very confident that the hour would go, but by about a third of the way into the race – I realised that I wasn't on a good day. There seemed to be an intermittent side wind which you just had to fight all the way round. I crossed the line 1h 1min 9sec…..truly gutted. I was convinced that the hour would go.
That probably wasn't the best preparation for my next jaunt into the open racing circuit – the first round of the Trans Vision Racing (TVR) Trilogy in Warrenpoint. The preceding week I indulged in the same activity that all testers do…..constantly looking at the BBC Weather site to see what was in store for me – and it didn't look good. It was a long hike to Warrenpoint but I got there in good time. Thankfully there was a familiar face (John Hunter) – so that helped. I drove the course and it seemed a good one. Thankfully the predicted heavy rain and strong winds did not materialise (lets be honest they never get it right) – and as it happened things were actually very pleasant – helped enormously by the fact that TVR had three motorcycle police officers patrolling the course during the race – making it much safer. The race went well – and I clocked a 22:01 – a massive pb and I was well up in the rankings. A happy puppy.
Confidence was growing now and I had lost that feeling of being overawed by guys with fantastic kit – especially when you find yourself overtaking them during races.
That was a third of the year over and things were looking up. Next was the club 10m TT in early June. Yet again some horrible head winds on the way home meant that quick times were unlikely – but a solid 23 was posted. In reality – the real worry was whether I could beat my nemesis (that damned hour) at the club 25m TT the following week.
The 11th of June came quicker than I had hoped. I also had a quite a poor preparation as I had to spend 2 days up in Bushmills with work immediately before the race. On race day I had to rush to Bangor to sort out some personal issues and then in a blind panic get to the start line in Ards. I had about a 10 min warm up and then it was off. Conditions were not great once again, but this time instead of having to fight a side wind all the way, there was a tail wind out and a head wind back – which meant you were at least getting some benefit part of the way. The outward leg went very quickly – though I was cramping by Mt Stewart – not a good sign given I had more than 20 miles still to go. By the turn I had two people in tow – but I didn't have time to worry about that. I was in a lot of pain and just wanted the finish line to come as quickly as possible. I finally got across the line and was able to get off the bike and get some fluids to ease things. Eventually, I limped back to the finish to check my time….59:04…..in your face hour!!!
Not long after I got home – I received a text of congratulations from Paul Swenarton (which was REALLY nice). He also made an ominous statement that now that I had broken the hour – I would do it a lot. So to test that theory – I entered the Fathers Day Super 25m TT up in Woodgreen the following week. All the best guys were there – but my aim was firmly set on breaking the hour again – and who knows maybe even a pb. Conditions were not good at all. A very strong headwind on the way home – raised some doubts about possible good times. The race started and things were going very well. In the knowledge that the homeward leg was going to be challenging, my average speed on the way out was about 32mph. I hit the first turn and the speed dropped dramatically – it was hard to get over 22mph. At the second turn, I knew that once round the roundabout I could once again make up time – that was before a lovely lady in a people carrier decided to re-enact "one man and his dog" and "herd" me down the wrong exit. I was now heading the wrong way. I had to come to a complete stop jump over the carriageway, remount and get back in the race. I could see several of the guys that I had overtaken flying down the road – once more ahead of me. I was angry….VERY angry, but had to try to keep calm and focus on doing the best that I could. I used the guys ahead of me as hares and systematically caught and overtook them again. After the third turn, I was back into the wind for the last stretch – but somehow it didn't feel quite as bad as the first time (I think by this time I was numb with pain) – and I crossed the line in 57:58 another big pb – despite the detour.
Next up was round two of the TVR Trilogy. Another big field – but a solid 22 again meant I was placing high up in the rankings for the vets category.
Early July saw round two of the Ernie Magwood Super 6. This time at Woodgreen. There were bad crosswinds but a solid 22:40 was posted and suddenly found that I had placed 8th in a big event which included the like of John Madden (yes the guy who beat the train from Derry to Belfast) and Sean McIntyre who has been a sensation on the circuit this year. I now finally did not feel out of place in these races.
The last club 10m TT was next and given that the club gold medal had already been achieved I was toying with the idea of marshalling if we were falling short – in order to help those who may still be looking for medals. As it happened, there were enough marshalls and I had no excuse. That said – another club race….another horrible headwind on the way home. A solid 23 was posted – but this was best put down to a training run.
The halfway point in the Ernie Magwood series was next up in mid July. Round three was at Woodgreen and conditions whilst not great – were probably as good as we have had this year so far. We got caught at a few points on the course with head/side winds but all in all – it was reasonable. A 22:05 was posted – just 4sec off my pb and I was again well inside the top third of the table.
There was no sign of nerves at all now – and I was feeling good….that was until, TVR posted the current standings after two rounds of the trilogy. I was lying second in the vets category with only one round left. Looking at the times, I was unlikely to catch first place, but had some fighting to do to retain my second overall. I had a week to prepare and so knuckled down to some hard training, pushing the nerves to the back of my mind.
The evening of the final round of the TVR Trilogy arrived – and for a change it was a scorcher (28 degree C even at 7pm) with only a slight breeze. Conditions were very good and expectations were high throughout all the riders. I'm not sure if it was the heat, dehydration or just plain old nerves – but within three miles of the start, my tongue was like cardboard and stuck to the roof of my mouth – not the most comfortable sensation, but I had to just persevere. The race was incident free and I went over the line in 21:22 – another new pb (I was beginning to like this course). Everyone was congregated around the timing board to see where they had ended up over the series. Eventually – it transpired that I had finished in second place in the vets category for the series, cue a happy camper on the trek from Warrenpoint back to Bangor.
Next up was the Ernie Magwood memorial race in Cookstown. If the wind is in your favour – then this is a FAST course. You start at the base of a hill and go up for 3.5 miles, before a dead turn in the road and then 6.5 miles back down hill. On this occasion the weather was a little too severe on the way out. It was a real battle to maintain 20mph on the outward leg against a fierce headwind. Then when I turned – I was spinning a 53/11 out at 43 mph on the way home. The rain came on just as I went over the finish line – which was quite fortunate. Despite the conditions another good 21 was posted which bode well for my main target for the year – the Ulster 10 Champs at Toome.
A week out from the championships and I, like all the riders, was glued to the BBC weather site. It wasn't looking good. True to form – on the day, it was very rainy and cold (ahh – NI summer had arrived at last). This was my first individual champs and so was determined to compete irrespective what the weather gods could throw at me. I arrived early, got my number and then met up with a few mates from Ards Cycling Club – who very generously allowed me to use their turbo (set up inside a transit van) to warm up – so that I didn't have to get soaked and cold before I had to. Fifteen minutes before my start time, I made my 5 min journey to the start and got there in good time (10 mins early). It was all looking good and I felt great – then hissss!!!! rear disc puncture in the tub. I had 10 mins – so still in skin suit and cleats – I put my bike on my shoulder and ran the three quarter mile back to the sign on to see if I could borrow a wheel. I found my mate who very generously loaned me his spare wheel. I got back to the start line 30 sec after my start time – but the commissaries let me go. I took off like a scalded cat and was going very well. Then disaster….as I put the power down, the cranks were slipping for some reason. I had to stop at about 4 miles and to my horror – my mates spare wheel had disintegrated – the hub and the rest of the wheel were in pieces. That was it – end of race – and massive disappointment. I once again put my bike on my shoulder and started the long walk back. Thankfully after about a mile – some marshalls drove up, loaded my bike and took me the rest of the way back. Things couldn't really have gone much worse and whilst mechanicals cannot be helped, I still felt that I had let a lot of people (who had supported me) down. In terms of my season – this was definitely the low point, and it would take quite an effort to drag myself back up from it.
Thankfully, there was a hiatus in my race calendar after the champs – which gave me some time to reflect, stop feeling sorry for myself and then get back down to business for the last handful of races of the season. At this point I have to thank my close friends who were really supportive of me – and really lifted the mood.
Next up was round 4 of the Ernie Magwood Super six. Surprisingly, the weather was yet again set to be poor. To compound matters, I had tweaked my back and glute (yes my ass) so was in a bit of pain. As it turned out, the weather was not as bad as predicted, but still cold and a strong side/headwind on the homeward leg. During the warm up – I realised that I had forgotten my Garmin….rookie mistake, so would now have to ride blind without any idea of my speed, but on the plus side – my ass felt ok J. The outward leg went VERY fast, and it was just a matter of putting up a battle on the way home. Crossed the line in 21:45 – second fastest 10 mile I had done – go figure. More significantly, it was important to put the champs behind me with a decent showing here – so job done.
A few weeks later and Round 5 of the Ernie Magwood Super 6 saw all of the big guns out. The weather was meant to be good and the official Cycling Ireland Commisaires were present in the event of an Irish record. They needn't have bothered, as a horrible little side wind put paid to any super fast times. I got a solid 22:07 and placed 6th in the vets category behind joint Irish record holders John Madden and John Heverin.
The season was starting to draw to a close and next up was the final club race of the season the 5 mile lung buster over Orlock. Conditions were very good and fast times were expected. This proved to be the case with many riders getting pbs on the night. Unfortunately in my case I got held up a little at the Springwell Rd junction by traffic turning right, and only got to equal my pb of 11:07. A lost chance to dip under 11min – but that's cycling for you. Still managed a 3rd overall.
Last race of the season was the final round of the Ernie Magwood series. I have to confess, at this point I was feeling pretty tired. It had been a long season and I was looking forward to easing off for a while. Quite unbelievably, conditions turned out to be the best of the year. Slightly cool, but not a hint of rain or wind. It turned out to be a day of super fast times, which from a personal perspective culminated in another pb of 21:09 shaving another 13 sec from my previous best. A great way to end the season.
I guess looking back over the year, its been one of highs and lows. Breaking the hour twice, getting a vets silver at the TVR Trilogy Series, well inside the top 10 in the vets at the prestigious Ernie Magwood Super 6, smashing my pbs for the 10 and 25 by huge margins (over 2 min and 3 min respectively), second place in the Ulster TTT champs with my team mates and of course getting a club gold medal all point to a great season overall.
The Ulster 10 champs (my main target for the year) however were undoubtedly the low point, along with the seemingly unkind weather that followed the races for the most part this year.
It's been a big learning curve, full of physical exertion, self doubt, laughter and tears – and I wouldn't have had it any other way. Testing is tough, make no mistake, but it is also enormously enjoyable – and I would encourage everyone to just give it go at the club events – you never know, you may get hooked.
John Rafferty