The highlight of the racing calendar for A4 racers is the Tour of Omagh 3 day. The 3-day stage race takes place from 27-29th June and features a similar format to previous years with three road stages and one time trial stage. Of those stages, two of the road stages have challenging new routes to ensure the race keeps fresh and offers riders something different. Interestingly, the race will not feature a hill-top finish this year, but will however provide hard hilly routes to help provide dynamic and exciting racing.
The race which will once again feature jersey competitions for the Overall race leader; King of the Hills; and Sprints. The club is retaining the Combativity competition in 2014 following the excellent success of the initiative in 2013.
Thanks to the enthusiasm of Johnny Webb, NDCC have got behind this event and entered a team of A4 riders to take on the challenge.
The team is as follows: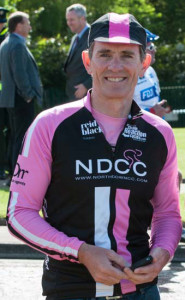 Noel Boyce AKA Sir Dave Brailsford
Role: Team Manager
Noel is a seasoned racer with a wealth of racing knowledge. He can be seen most weekends pulling club runs apart or taking home prizes from the over 50's races.
He has set aside his own cycling this weekend to help and coach the A4 team. His experience will be vital to a team of enthusiastic A4 riders.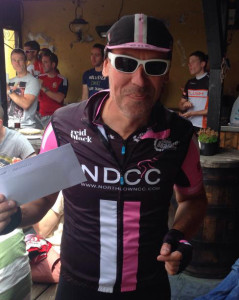 Johnny Webb AKA Short Hill Specialist
Role: Eye Candy / Motivator / Team Sponsor
Mr Webb has put a lot of planning and effort into this event. From organising the hotel, finance and team to getting onboard sponsors. The one thing he couldn't do was avoid sprinting up a short hill in Richill to take 2nd place and get himself upgraded to A3!
So Johnny has had to pull out of racing in Omagh but will still be a big part of the weekend both in the cavalcade and back at the hotel.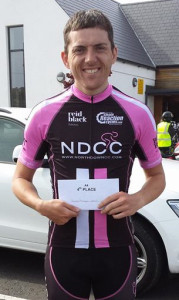 Keith Phillips AKA The Kid
Role: GC Contender
Keith is in his first year of racing and is one to watch. Keith has already picked up points this year but unlike Johnny, made a decision to stop racing after the NDGP incase he got upgraded!
Keith will be strong on the climbs and should do well in the TT if his form in the club time trials is anything to go by.
We wish him the best and really hope to see him in the yellow jersey at the end of Stage 4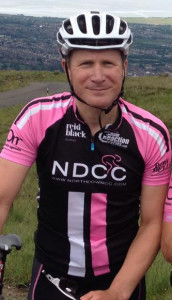 Peter Doggart AKA Winter Warrior
Role: Diesel Engine
Peter has been racing for a few years and has plenty of experience and power.
He specialises in winter races on out of season club rides but has managed to continue racing this year into the sunnier months.
Peter is a very strong rider and will be working hard for the team and Keith.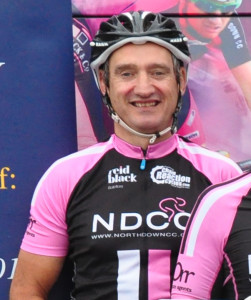 Kieran Beattie AKA Semi Pro
Role: Punture Repairer
Kieran turned Semi Pro this year and can be seen every morning heading along the Rathgael Road as others are heading to work.
Kieran now has his "2 year legs" and has moved coaches this year from Harry Adams to Noel Boyce. The new relationship was going strong until an incident in Mallorca. Noel didn't raise his voice to his protege, he simply shook his head, turned around and walked away.
Kieran scared us all with a visit to the tarmac on Wednesday night but all is well and if he can avoid the punctures will do well on the tour.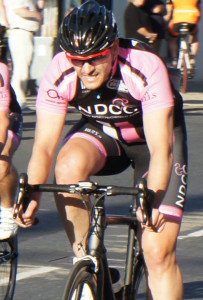 Stephen Cousins AKA Steady Steve
Role: Big Donaghadee Unit
Stephen is an ex-rugby player but is now 100% hooked on cycling. He can be seen most Wednesday nights at the club time trials and races.
Stephen had a late start to the season but raced a few weeks ago in the NDGP and then did back to back races last weekend in Richill and Banbridge (both hilly circuits) to prepare for the Omagh 3 day.
Stephen is a Big Unit and will be sheltering half the peloton behind his wide shoulders and rear end.
Details of the event and stages can be found on the Omagh wheelers website – http://www.omaghwheelers.co.uk/road-racing-1/tour-of-omagh-3-day/
The race this year has been extended to 110 riders so it will be the biggest race that any of these riders have ever attended.
Sadly the team will be without fellow A4 racer Paul Kirk due to a throat infection and our two entries for the ladies race (Rachel and Catherine) have both been involved in cycling accidents and had to withdraw. We wish them all a speedy recovery and they will be missed on the tour.
Finally we'd like to thank our sponsors: Mackey Eyecare, Protein Active, Webb and Co. and of course NDCC.
We'll try and keep you up to date after each stage.