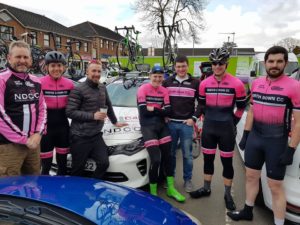 Congratulations to the five man NDCC team who braved a brutal, incident packed and weather disrupted, Tour of the North at Easter – Timmy Burns, Andrew Chivers, Stuart Henry, Javan Nulty, and Keith Phillips. The sub-zero conditions took their toll on the whole race and a couple of the NDCC riders were further beset with bad luck and cruel punctures. Nonetheless, the team rode strongly and proudly represented the Club and our sponsors, in this prestigious international 3-day race.
---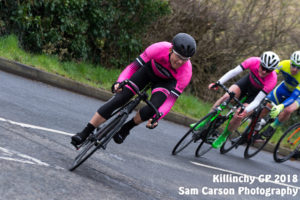 Many of the Club's racers returned to action again this weekend (7-8 April) and in relative Spring-like conditions, Saturday saw the second running of the Killinchy CC GP. NDCC riderscontinued the early season form, with Stuart Henry forming part of an unbeatable A2 breakaway – ultimately crossing the line in 4th place. Young Nathan Keown is impressing everyone at the minute and rode a storming A3 race – finishing 4th in the sprint. Stuart Millar and Gareth McBride also performed well and finished comfortably in the bunch.
---
On Sunday, a strong NDCC contingent travelled to Maghera for the Carn Wheelers Classic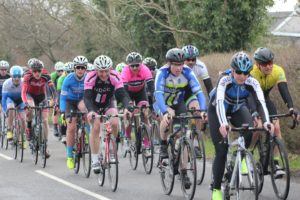 Road Race. In the Masters race, Paul McArthur powered away from the field to record an emphatic victory, with an incredible winning margin of 4 minutes. Paul Kirk and Tom Henry were also both on form, finishing 7th and 9th respectively. In his long awaited comeback, Kieran Beattie showed some attacking spirit, eventually finishing safely in the bunch. In the longer A1 race, Andrew Chivers rode an aggressive race and was part of a winning 10-man breakaway, finishing 7th in the stampede for the line. Keith Phillips was formidable in the chasing group, covering breaks and eventually riding off the front of the group in impressive style!
Congratulations from NDCC to all the weekend's winners and competitors.