You could be forgiven for thinking that NDCC is entirely made up of MAMIL's – Middle Aged Men In Lycra. However, with over 200 members in the club we have a very diverse range of cyclists. With youth riders as young as nine, female riders as old (or young) as 69 and male riders as old (or young) as 84, we have something for everyone, regardless of your age or ability.
Cycling is a great sport for everyone. It is easy on the joints and a fun way to keep fit and also expand your social circle. NDCC is not just about racing, but if you do want to race we have an active and successful racing team. The men's racing results are well documented, but Louise Togneri (50), who only started cycling in her late 40's, recently came 3rd in the first race she's ever entered. She was also featured in the February issue of Good Housekeeping magazine in an article about women who break the mould.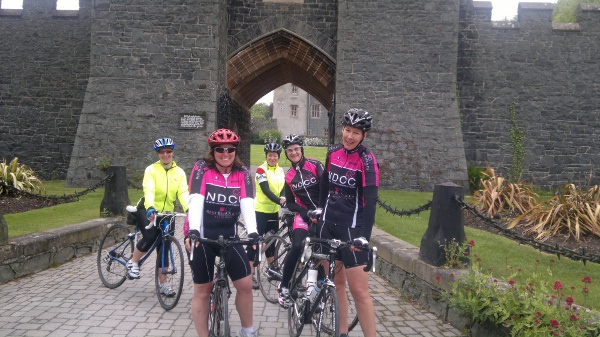 We also have a lot of leisure riders who take part in the many sportives province-wide and beyond. Last year Dawn Henley (51) completed a ride of over 400 miles in 4 days in the USA to raise money for the families of those who have lost their lives in the line of duty.
In order to encourage more members into the club and to allow people to have a go at riding in a group, NDCC will be starting its Novice Ride on Saturday 31st March. This ride will run through Spring and Summer until the end of August. The ride is open to both men and women and starts at 9.15am from the NDCC club house (Park Drive by Ward Park). Please meet at 9am sharp for a safety briefing.
The ride will be at a pace to suit beginners /leisure riders – no more than 16mph and will be approx 30 miles with a tea stop in Hoops in Greyabbey.
Please note that this ride is only open to those with road bikes and helmets must be worn at all times. Further details can be found on the club website – www.northdowncc.com
Denise Hart
Yardman Titanic Cycle:
Organised by Sustrans for the North Down Bicycle Friendly Borough Campaign we will be utilising the North Down Coastal Path to join the Titanic commemorations.
You can come dressed as you wish, whether as a Titanic Shipyard worker, in your Lycra or jeans, everyone is welcome!
Everyone will meet the main Yardmen Titanic Cycle from East Belfast at Titanic Quarter using the same means of transport many men used when they travelled to the Shipyard to build Titanic, the largest ship afloat in the world at the time of her maiden voyage!
Come along, enjoy the ride and highlight the importance of the North Down Coastal Path as a safe and quick route linking North Down, Titanic Quarter and Belfast.
The section being used will be upgraded and accessible. By highlighting benefit of the upgraded sections the ride can hopefully persuade decision makers to upgrade the remaining inaccessible sections from Bangor to Holywood before next year's Titanic Anniversary!
Date and time: Sunday 1 April 2012, 12.15pm
Meeting place: Outside the Dirty Duck, 2-4 Kinnegar Road, Holywood, BT18 9JN
Cost: £10 Adults £5 Children Interested participants must register and pay in advance by Sunday 25 March 2012. Children should be accompanied by an Adult.
Registration can take place in person at Bikeworks Cycle Shop, Unit 70 Dunlop Industrial Estate 1 Balloo Link, Bangor, BT19 7HJ