NDCC was in festive mood last weekend (16 December) for the traditional Hot Port run to the Saltwater Brig. Some of the Christmas outfits were nothing short of "amazing", with baubles and fairy lights proudly displayed. Perked up by a shot of caffeine at Baylands Coffee Company, over 70 cyclists set off to criss-cross the Peninsula and rendezvous at the Brig. Although the weather was much improved from earlier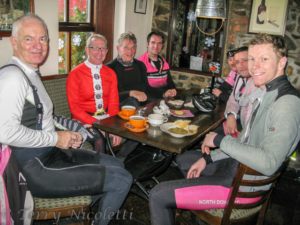 in the week, reports of icy road conditions around Ards and Comber meant that the favoured route for some, via Strangford and across on the ferry, was off limits. Meanwhile, back at the Brig, innkeeper Orla was busy lighting the fires and preparing the usual homely welcome, including a bowl of warming vegetable soup and crusty bread. Fortunately, the NDCC festive run always has a few willing elves on hand to fix punctures and the various groups all made it safely to the Brig, more or less on schedule.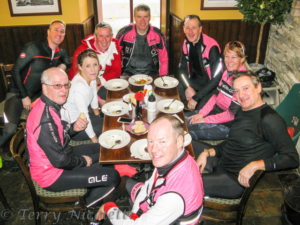 As ever, the hospitality from Orla and her team was marvellous and members enjoyed great craic while thawing out and steeling themselves for return trip to Bangor. Our nominated charity for the festive season is the Motor Neurone Disease Association, with riders contributing generously on the day. Congratulations to Johnny and Jude Webb for making it all happen!
Images by Terry Nicoletti