CYCLOCROSS COMES TO BANGOR
Cyclocross is a winter discipline of cycling akin to cross-country running.  Courses are normally held on a variety of surfaces grass, forest trails, tarmac and of course the obligatory mud.  Whilst the races last for one hour or less, the effort to push your bike around in conditions like these, often means your body is on the limit, and you will feel it in your legs for days to come.
Round 10 of the Ulster Cyclocross League was hosted by North Down Cycling Club. Organised by a small but dedicated four person committee, the course, described by many as suitable to run a Championship race over, started at the bottom of the Valentine Playing Fields, rising and meandering through mud to the dry respite of Pigeon Wood before opening up onto Castle Park, where the good conditions made for fast racing.
---
The Racing
With almost three hundred competitors signed up, this was going to be a full days racing, with riders as young as three or four pushing themselves around a short course on balance bikes, to the more senior riders in their 50s but all were out having fun.  Valentine Playing Fields have never been known as having good drainage, making for heavy going in parts.  With three courses designed for the differing age categories, all riders were going to have to work hard to battle through the mud.  The Youth races were first off, the ability and strength of some of the young riders was very impressive, the advantage of being small and light is you do not sink into the mud so deeply, regardless they showed determination and grit to complete the course, young NDCC rider, Daniel Cardy finishing an impressive seventh.
The first senior event was the Men's B Race, with 95 riders starting.  With a fast start, the field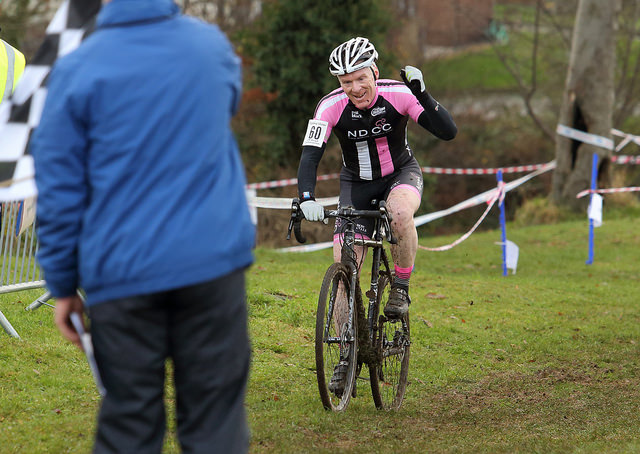 soon started to split and stretch out.  The long and deceptive climb up from Valentine Playing Fields to Pigeon Wood proved a struggle for many, through the technical wooded section before the fast, flowing route onto Castle Park.  A short, sharp bank, pitted with tree roots tested the riders who maybe thought they would get some respite, but this is CX and that sort of thing does not exist.  Back on the bikes only to have a set of steps to carry your bike up and then a swift path back towards Pigeon Wood and onto Valentines again.  NDCC had a great battle between Michael McMullan, Keith Phillips and Richard McCullough for first, second and third.  McMullan had led for most of the race and at times looked like he was going to be caught by his chasing club mates but he managed to stay away, winning by 17 seconds.  All three podium steps taken by NDCC.
Next up was the Ladies CX, MTB and U16 male riders, with hot favourites Alison McMullan and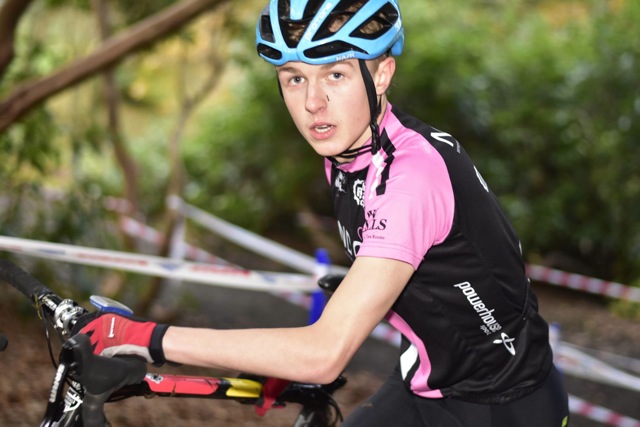 Jake Rushby looking to win their races having ridden strongly all season.  Rushby got a great start and soon showed his class by powering away from the field, eventually opening up a huge gap and increasing it lap by lap.  By the end, he crossed the line well ahead of his nearest rival with a very well deserved first place after stepping closer to the top spot in the last few weeks.  The Ladies events have becom
e more and more popular in both CX and MTB.  Beth McCluskey traveled two hours to get to Bangor and showed why she is the current Irish Ladies CX Champion by winning comfortably over the rest of her field. Alison McMullan, having finished second in nearly every round this season, was the main contender for the Ladies MTB race, and like Rushby soon opened up a massive gap on the rest of the field finished first, well ahead of the rest.
The main 'A' race for the senior men pitted Ulster's finest CX riders, including reigning National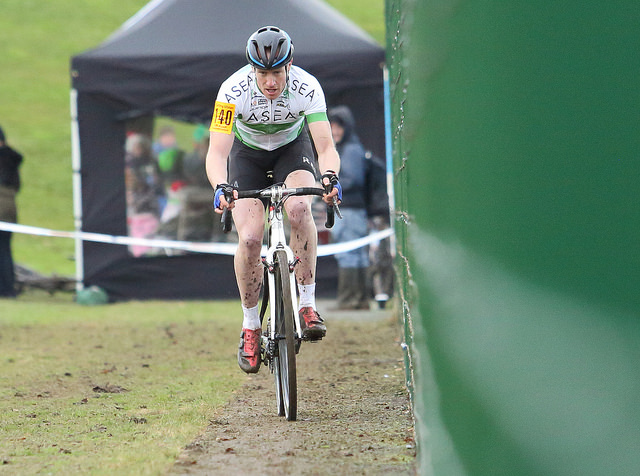 CX Champion Roger Aiken, who has been in terrific form all season, out to do battle on the last race before the Ulster Championships. Aiken (Team Asea), glides over the mud and course whilst the rest of us sink and plod through it, making it look effortless.  His power was evident, as a rider of local man Glenn Kinning's caliber, battled hard to stay with him but had to contend with second place as Aiken came home alone to take another victory.
The venue, course design and organisation, alongside the free burger provided, made for a great day's racing, for once the weather smiling down kindly on NDCC.
Ards and North Down Borough Council granted use of the land, and NDCC would like to thank them for their assistance for this.  Thanks also to the Aurora Sports Complex for use of their facilities and to the public for their understanding and support whilst the event was running.  Events like this cannot be run without volunteers and a thank you to those that gave up their time, in particular non-club members and those from different clubs.
Words by Michael McMullan
Images courtesy of Bronagh Kirk & The Belgium Project