The 2014 International youth tour was hosted by Errigal Cycling Club. NDCC had five youth riders competing in this very tough competition. Adam Preece, Joash Lawrence, Katie Armstrong, Marc Lyons and me, Molly Mc Larnon.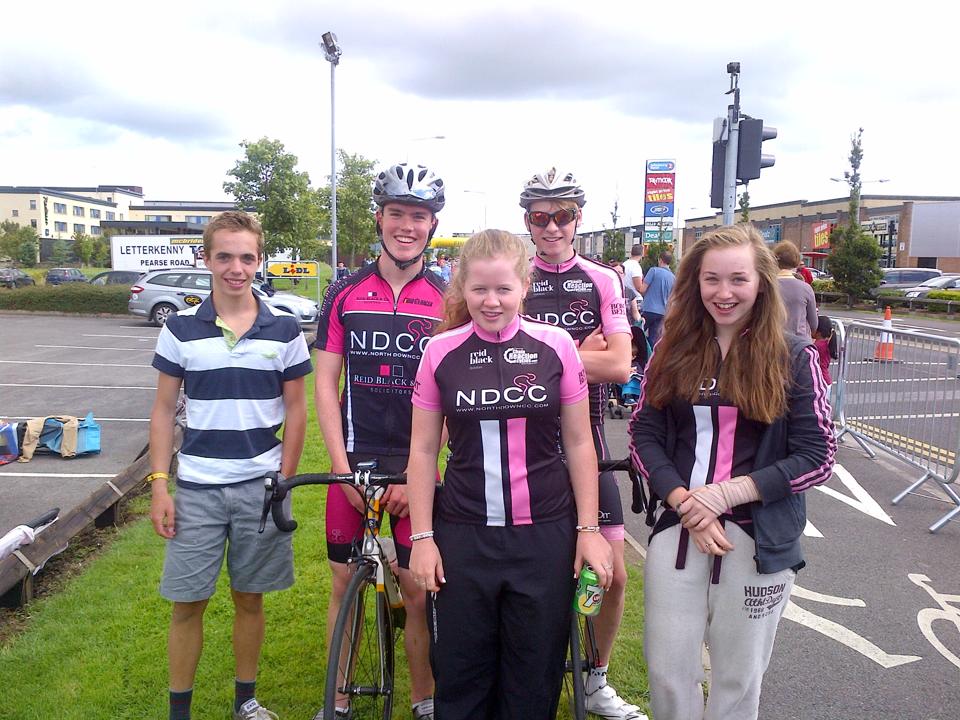 This is undoubtably the hardest event in the youth calendar, 4 races in 3 days in the tough Donegal hills. Past winners include, Ian Stannage [Team Sky] and Adam Yates [Orica- Green Edge].
Saturday 2nd, Stage 1 :
What a climb! 5.77 mile lap around Churchill village. Each lap ended with a horrible climb which look like something out of Alpe D'Huez in the tour de France, hundreds of spectators lined the hill to watch the suffering. U16s had to complete 5 laps of the circuit in terrible wet, windy and cold conditions. NDCC riders Joash Lawrence and Marc Lyons had a great ride and finished in the bunch but unfortunately Adam Preece didn't make the start due to a mechanical problem. Eight U16s had to be hospitalised due to the dangerous racing conditions.
The U14 race was shortened by 1 lap, to two laps due to the severe weather conditions. I was the only NDCC competitor and finished safely in the middle bunch.
U12s raced 1 lap with Katie Armstrong finishing well in the top half of the field.
To see U16 boys crying with pain whilst climbing the hill, just proves how tough it was!
Day2:
Early start, with a 9:15am start time for the 0.9 mile TT hill climb. It was really tough and we all managed to finish in the top half in our cat.
The afternoons racing was delayed for a few hours due to more heavy downpours. Katie in the U12 off first, she had a good start getting into the bunch but was held up behind crashes and lost her place. Katie finally came home in a great 18th place.
I had an horrendous race, with mechanical and injury forcing me out after lap one.
U16 Racing finally got underway just after 5:15pm and again Adam, Joash and Marc had great starts but a series of crashes held most riders back. Joash came down hard during one of these crashes and unknown to him he broke his front forks and a few hundred meters later ended up in a ditch whenever the forks collapsed. He was very lucky only to end up with a few cuts. Adam and Marc finished safely around mid field.
Day3: Letterkenny Crit.
Blue skies in Donegal! What a day, blue skies and light wind, we are all really excited and feel confident. Surely we couldn't have anymore bad luck?
U12, Katie was off first and settled into the bunch until lap 6 when she was unlock to fall due to touch of wheels. Katie is getting some war wounds from her seasons!
U14 off next with a big field of 62 riders all fighting to get into the first corner. Between first and last position it must have taken 30sec for the peloton to go around each tight corner. I got a good enough start but a front group soon established and unfortunately I was in the chasing bunch. Only one girl made it to the lead group, so I was quite happy with my finish.
Scott to the rescue! Scott, kindly lent Joash his bike to race otherwise he was going home early. Our three U16 riders had to use elbows and whatever other weapons of choice to get anywhere near the front. 97 riders were trying to get into the first corner first. The boys tried hard but all three just missed the breakaway group and were chasing all day. The speed was as fast as the lead group but the gap couldn't be closed.
Overall we were slightly disappointed with our results but we all tried our best in the horrible weather. On behalf of Adam, Joash, Katie, Marc and myself we want to thank everyone in NDCC for all your support and encouragement and to the Bokhara Indian Restaurant in Bangor for their financial support.
By Molly McLarnon.