Last weekend, before heading off on their various regular Saturday morning club runs, members of the North Down Cycling Club (NDCC) took a few minutes out to present cheques totalling some £13,000 to four local charities.
The money had been raised during the summer through the Club's major sportive event of the year, "The North Down Coastal Challenge" when over 1000 cyclists spent an enjoyable day making their way round the Ards Peninsula including a well earned lunch stop in Portaferry.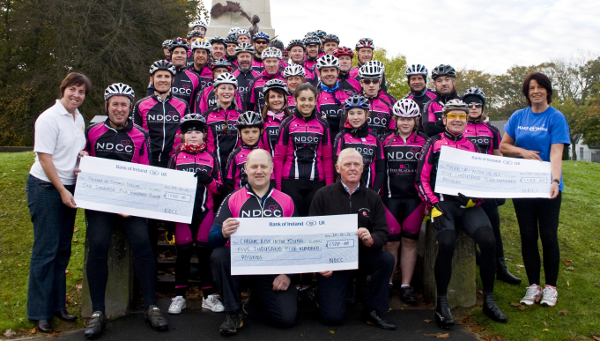 Over the years NDCC has donated money raised from the Coastal Challenge event to local charities and this year was no different with donations being made to four different groups including: Cardiac Risk in the Young (CRY) Northern Ireland which provides cardiac screening services for  young people, sponsors research and provides bereavement counselling for families devastated by the loss of a child from Sudden Death Syndrome: The Make-A-Wish Foundation which last year in Northern Ireland made magical wishes come true for 59 children and young people aged 3-17 fighting life-threatening conditions, creating dreams and memories that last forever for the wish child and their family: Friends of Compass School and Creche which helps the people of Kikuyu, Kenya by raising funds to feed, educate and medically assist Orphans and Underprivileged Children, many  of whom have HIV and who, without the charity's help would inevitably not survive: Portaferry RNLI whose work will need no further explanation to residents along the route of the Coastal Challenge.
Speaking afterwards, Club Chairman Ian Blayney expressed his sincere thanks to those who had made the event possible including the club members who assisted on the day, the PSNI who helped ensure the safe running of the event and, of course, the event sponsors Bike Dock. He went on to say it was a real pleasure both to be able to support such worthwhile causes and to see Coastal Challenge event grow over the years to become one of Ulster's most popular cycling events, attracting an eclectic mix of participants who find the event both long enough to provide a good run for club cyclists yet short enough to provide an achievable target for the novice rider.
World Triathlon Grand Finale – Auckland
Whilst any "proper" cyclist knows that a bike ride should never be preceded by a swim nor followed by a run, when the event in question is a televised world championship event held in New Zealand on an Olympic distance course then it attracts their attention. The series itself was held over seven events starting in Sydney with the final race being held in Auckland. Club member Gary Swenarton made the long journey down south to pit his athletic abilities against the world's finest a couple of weeks ago. Despite an average swim he put in an appropriately quick bike ride followed by a fast run to finish highest placed Irish competitor in his category. To finish so highly in World Championship event is something that few of us could ever hope to emulate. Congratulations Gary from all in the club.
Star of Tomorrow – Molly McLarnon
As anyone in the club will tell you the name McLarnon has become synonymous with the cyclo-cross discipline. Following in a trail forged by her Father, Colm, Molly is now the one chasing results in the family name. At the weekend in Lady Dixon Park she won her event overall on a cross course famous for it's technical difficulty. The accolades don't stop there however as Molly has just recently discovered that she has been selected for the Female Squad of Talent Team 2020. TT2020 is a squad of youth riders who are trained, guided and educated by Cycling Ireland, with the aim of having a strong squad prepared for the Olympics in 2020. Riders from the Squad will be selected to race in various events on the TT2020 race programme. Talent Team 2020 was formed in 2012 to nurture and develop a select group of riders with proven ability who were born between 1995 and 1999.
2013 is going to be an exciting year in the development of these young girls in their ultimate goal of competing in the 2020 Olympics.
For the first time ever next year an equal number of Irish girls and boys will compete in both the road race and time trial at the European Youth Olympics in Holland while the European Youth MTB championships in Austria will also feature Irish representation.
The squad enjoys vital support from Neenan Travel, the Dublin-based firm which specialises in trips to international cycle races such as the Tour of Flanders and the World Championships.