Change at the top
At the NDCC AGM on 11 November, an era came to an end when long standing Chairman, Ian Blayney finally decided to step down and give someone else a turn. Ian had been Chairman for the last six years and was extremely hard working and effective in the role. During his tenure, he has seen the club almost quadruple in size, attracts major sponsors such as Chain Reaction Cycles to the club and negotiated a move from our much beloved, but old clubrooms at Park Drive to the Sportsplex in Bangor West. The time, sweat and tears he has given to the club have been greatly appreciated by all, and as a club we are indebted to him for this. On behalf of NDCC, we would like to say a big thank you to Ian and his long suffering wife, Shirley for their work down the years.
His successor is the ever youthful and popular Mickey Forbes. Mickey has been in the club for a number of years and has been instrumental in running and ensuring the Coastal Challenge has remained a huge success and a must ride for sportive lovers. Mickey can be confident that his new committee will be supportive to him as he takes on the heavy mantle of Chairman.
Ulster Cyclocross Season 2015
For the uninitiated, cyclocross is like cross country running but done on a bike, though there are times you run with it, push or carry it up a muddy bank on your shoulder, all while telling yourself, "Sure this is great crack!" and when you finish covered in muck, you realize that, yes, that was great crack!!
NDCC hosted Round 5 at the old BGS playing fields on November 8th, on what turned out to be the wettest, windiest day in weeks! A number of days were spent planning, preparing and setting up the course, and all the associated refreshments, in what turned out to be a huge success for the club with nearly 250 riders of all ages, from U6 to Over 50s taking part.
Any ex-BGS pupil will remember the pitches as being sticky muddy and wet, no surprise then that nothing changed. The heavy going put the riders through their paces, with some crossing the line in tears – a sign of good racing. NDCC were well represented in all the age categories with success coming to rising CX star, U10 Daniel Cardy always finishes with a smile on his face, while Maia Simmons took top spot again in the U14 despite being only 12yrs old, showing the field a muddy pair of heels! Jake Rushby, who has been riding strongly as a first year U16, continued to impress with his determination.   Riders in the A & B races all faired well, with a great turnout by the club.
NDCC would like to thank Independent Estate Agents for facilitating the use of the grounds and the pavilion, and to Liam Curran for his assistance in cutting the course for us. Feedback about the race has been very positive and we hope we can return there next year.
Cyclocross – Round 7
Maia Simmons continued her domination in the U14 category with a very impressive win, her seventh in a row, on a very heavy and challenging course at Ormeau Park. Jake Rushby had that deflated look again, by puncturing a number of times on the course, but there's always next week and hopefully his luck will change. The biggest surprise has been the return of local cycling legend ray Brownfield to cyclocross. He casually turned up at Round 5 with the obligatory no training done and finished in the top 20, while at Ormeau Park his style and experienced soon saw him leave the majority of the pack behind and power on to an amazing 4th spot. The King of Cross is back and if he's not careful will be on one of the podium steps.
Awards Night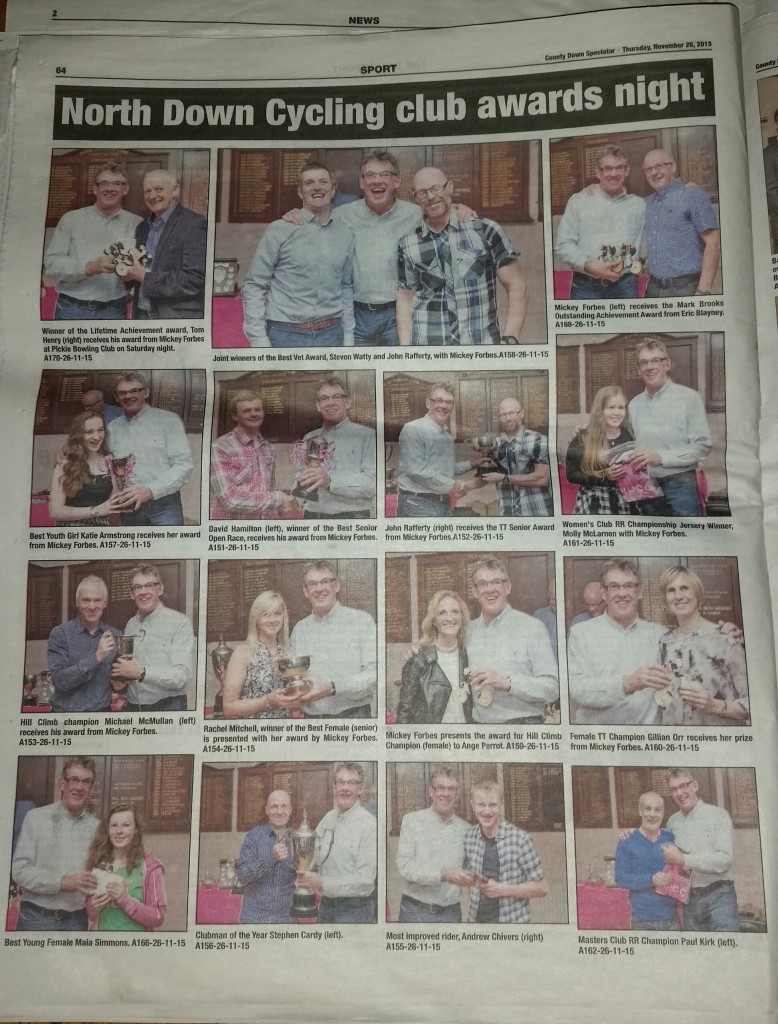 Saturday 21st November saw the annual Awards Night. In what was a smaller turn out than usual at the Awards, numerous accolades were handed out to members for their racing achievements and commitment to the club. A very well done to all. The club would also like to thank the County Down Spectator for sending along a photographer to the event.
A full list of awards and winners can be found by Clicking Here
Michael McMullan – NDCC PRO