BANGOR COASTAL CHALLENGE IS A GREAT SUCCESS
As luck would have it, sandwiched between two days of glorious sunshine, Sunday's Chain Reaction Bangor Coastal Challenge proved to be a wet and windy affair.  That only made the task more of an effort for the nearly 800 cyclists who braved the elements. With marshals standing out for many hours to either direct riders or hand out water and drinks, and a support team on motorcycles and vans, this event was well planned and executed, a special mention of thanks should be made to the Coastal sub-committee, and all the volunteers that helped make this charity event a success.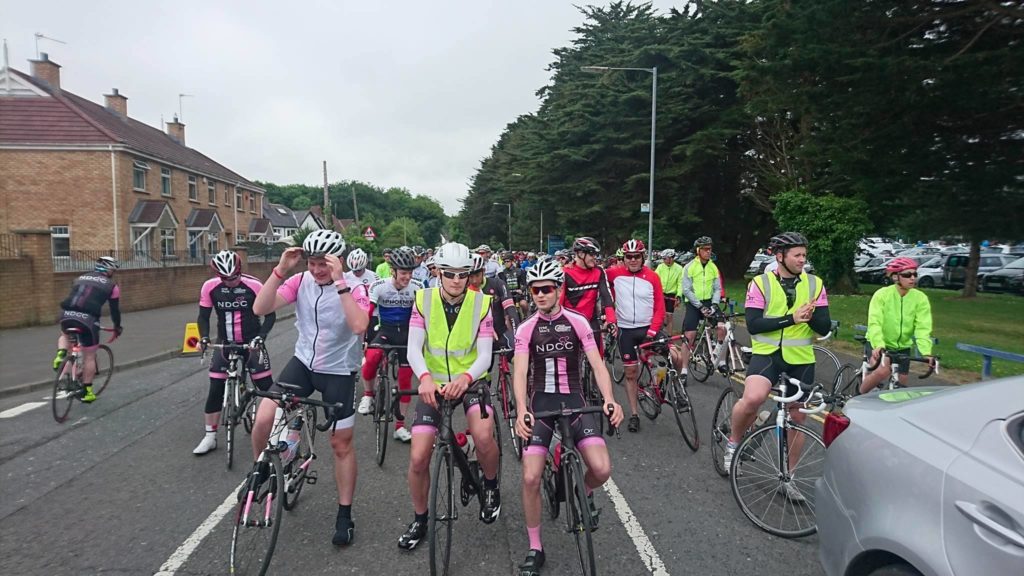 People of all shapes, sizes, fitness, ability and from all over Ireland rode their bikes, with at least two tandems being spotted en route, from the start at Bangor Sportsplex through the villages of the Ards Peninsula to the refreshment stop at Portaferry.  A strong headwind made the outward leg difficult, with the rain coming in earlier than forecast, some riders finding shelter in groups while others battled alone, but the consolation of a warming bowl of stew and the promise of a tailwind home helped lift the spirits, making it as one competitor said "A real challenge".  The homeward leg through Kircubbin and Greyabbey saw the average speeds lift with most participants making it round, if not cold and wet, relatively incident free back to the Sportsplex.
It was not just the big kids out on their bikes today either, the inaugural Ride to Pickie was another big success.  For many, this would be the first time they were able to ride on the road, and with them being closed ensured it was a safe environment to do so.  Despite the weather, they were able to fit in a couple of hours fun at Pickie.
Many thanks to PSNI Bangor and Ards & North Down Borough Council for their assistance with both the Coastal Challenge and Ride to Pickie.
North Down CC would like to thank all who made the effort to ride the Chain Reaction Bangor Coastal Challenge and the Ride to Pickie, hope that if this is just the start of your cycling adventure, that we will see you back again next year.
---
Racing Round Up
There was no club event this week but NDCC had success at other venues.  On Tuesday at Warrenpoint, tester Paul Swenarton proved his mettle with a storming 10 mile at the TVR TT time of 22 mins 26 secs.  This was good enough for him to take the fastest vet title on the night.
The hard roads of East Antrim saw NDCC riders James Ambrose and Keith Phillips take on the Audi GP.  A tough course on hard roads meant nothing to this duo, who were instrumental in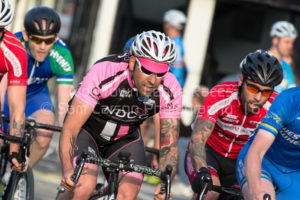 forming the break rode hard all race, with Keith Phillips being rewarded with a great 4th place.
NDCC had success at the criteriums this week too.  Maia Simmons, one of our most talented young riders, showed her strength in Ards against the U14 boys by finishing 1st girl and 5th overall.  Gavin Moore placed 3rd in Antrim on Tuesday and 4th in Ards.
---
 A Bicycle Made for Two
North Down CC has seen a couple of weddings take place between members over the years, the most recent being that of Mark Irvine and Rachel Mitchell.  This young couple met a few years back at a club function and love soon blossomed.  Cycling is in their blood, as the Irvines and the Mitchells are two of a few pillars on which the club was founded in 1977.  NDCC wish this pair all the very best in their married life together.
---
Words & Report by Michael McMullan – NDCC PRO