The Chain Reaction Cycles North Down GP supported by Ards and North Down Borough Council is on Sunday the 21st August. is on Sunday the 21st August this year. Races for all categories. Entries will open on Monday 1st August at 8.00pm on Entry Central.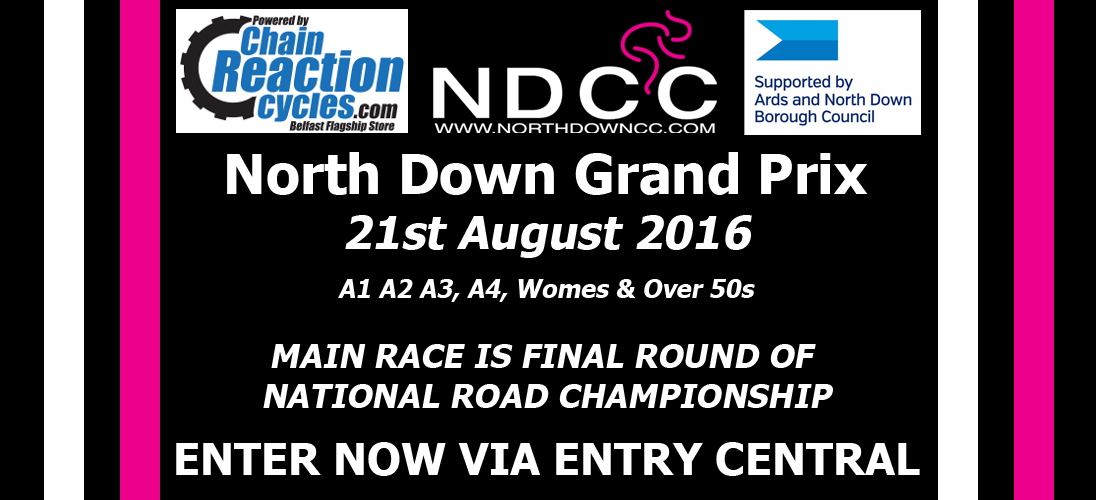 Revised schedule for this Sundays North Down GP below.
*OVER 50's AND WOMENS NOW STARTING AT 12.00. NO YOUTH RACES*
Sign on open- 10.30
Riders roll out- 11.50
A1,2,3 race start- 12.00
A4 race start- 12.01
O50 race start- 12.02
Womens race start- 12.03
Could the O50 and women racers try to spread the word of the changes to those they knew had planned to come. Thank you.
Prize fund for Main Race (A*,A1,A2 & A3)
1st £300.00
2nd £160.00
3rd £140.00
4th £110.00
5th £90.00
6th £70.00
7th £50.00
8th £40.00
9th £30.00
10th £20.00
KOH (Laps 2,4,6,8) £30.00
KOH 2nd £20.00
KOH 3rd £10.00
Unplaced A2 1st £25.00
Unplaced A2 2nd £20.00
Online entry is available here – www.entrycentral.com/northdownGP