What a difference a year makes. Last year's Irish Championships were held in Wicklow and only one determined North Down rider turned up to contest the coveted Irish Champion's jersey. This year the club was represented in just about every senior category. Elite, Masters and Veterans were all there battling against Ireland's best. After a fortnight of glorious weather the course was in great condition. What a course it was too! After last year's course, which was an uninspiring, damp, off camber heavily rooted track the guys at Carn Wheelers had done a magnificent job at Garvagh Forest putting together an altogether superior course for racing on. Only an hour from Belfast the forest had a bit of everything to keep any enthusiastic mountain biker on their toes.
From practicing the course on Saturday afternoon it was clear that the long spell of warm weather had created the most rare of Irish mountain biking events – a dry course! Riders used to riding grippy tyres with low pressures to gain any grip at all in the usual mud bath conditions were now faced with hard packed trails usually only read about in North American Mountain Bike magazines.
The course was an absolute belter. Lots of technical single track with enough features to keep riders on their toes. From the three bomb holes in a row followed by a ten foot vertical drop to the flat out fire break descent with a high speed berm at the bottom to spit riders out into a suspension seal busting set of root steps it was a course to test riders bodies and fitness alike.
Since it was the Irish Championships this was to be the most important one-day race that the club would contest this year. Jack Watson was there to add the necessary gravitas to the occasion ensuring the event was run to the highest possible standard.
From the start Ross Blayney attacked the course with his usual enthusiasm for a tough event though unfortunately on lap two he rolled his rear tyre off during an aggressive attack on the bomb hole section. Ross changed his tube and charged on though his misfortune would cost him any chance of a podium place. Meanwhile Lewis Ferguson was flat out in the Elite category racing head to head with Ireland's finest mountain bikers. Seventh place was Lewis' result for the day finishing well up against distinguished company. Joining him in this category was another local rider, James McMaster, returning to his mountain bike roots after a long layoff the mountain bike. The Veterans category was a large field too and with nearly two hours of racing everyone was indebted to Matt Ferguson for handing up bottles through the course of the race. In the heat dehydration was nearly as much of a problem as rider fatigue.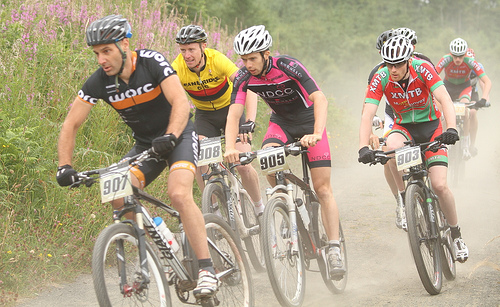 Well done to all three North Down riders for representing the club so well at National level and a big thank-you to Carn Wheelers for designing such a Championship worthy course!
Club Summer BBQ – Pickie Bowling Club
You'd be forgiven in thinking that the members of North Down Cycling Club spend all their free time on their bicycles but on occasion they make a rare exception (well, some do). The annual summer BBQ is one such exception and the date has been set for this year's!
Tickets are now available to be reserved for the event which this year will take place on Saturday 24th August. This evening is always one of the season's highlights and there is a great demand for tickets. We hope many of you new to the club will come along to support the club and enjoy a great night out!!! The BBQ will be held at Pickie Bowling Club at 7pm and we have a late licence.
This year we have kept the price of a ticket to only £5 per person. Members and friends are welcome. Kids are also welcome and if under 16yrs are free. Please remember that the rules of the club require children to be off licenced premises by 9pm.
Food as always will be provided by club members Mark Brooks and Keith Humphries of Bow Bells and is always fantastic. We will also have Tricycle Trading selling ice-cream and strawberries!!
Club member DJ Matt Ferguson of Music Matters will provide the entertainment.
Please reserve your tickets by contacting Denise Hart or post on the relevant Facebook post. Tickets are limited so please only reserve them if you are definitely going. Matt Ferguson of Music Matters can also be booked through Facebook for private functions.